ActioNet is a leading IT integrator, dedicated to innovative solutions and service delivery excellence.
Your Trusted Innogrator™
Our ultimate success rides on our ability to maximize the potential of People, Process and Technology in the Solutions we provide to our customers. Connecting these critical "dots" and keeping them connected are part of the fundamental building blocks of establishing a foundation for success. The combined creative forces of Innovation and Integration are further reinforced by our core values, which we call ActioNetization. The roles of Innovator + Integrator = Your Trusted Innogrator™.
Innovation
ActioNet's ability to Innovate helps enable the missions of our customers and ActioNet as a whole. Our service offerings enable business transformation and mission support, applying a creative approach to supporting operational needs across the federal government and private sector:
Think outside of the box in optimizing and adapting business processes to current needs
Deliver secure solutions faster, for less money, & with fewer resources
Future-ready technology architectures, methodologies, standards & platforms
Increase efficiency, automation, quality, security & flexibility
Integration
ActioNet, as an IT integrator, brings together the right resources including subject matter expertise (both internal and trusted partners), mature processes and technology components and weaves them into cohesive, scalable solutions. We view and embrace our Customers' Missions as our own and provide value through collaborative, cohesive solutions integration. ActioNet Services are available through many GWAC/IDIQ contract vehicles that provide our customers with easy access and the ability to handle rapid turnaround times.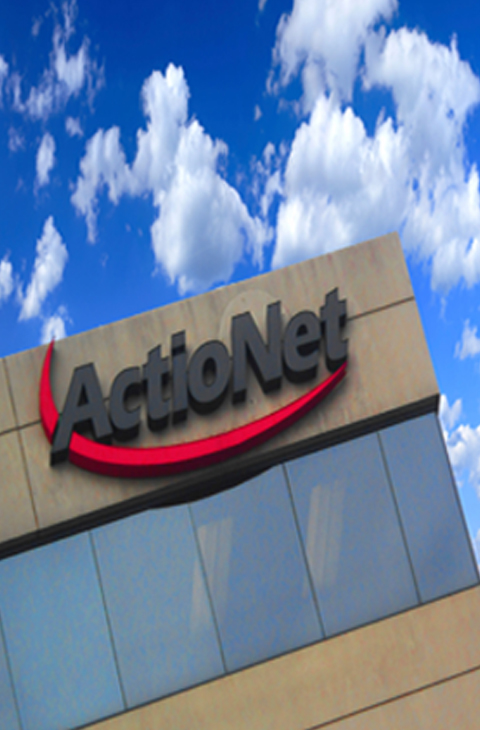 The proactive nature of IT Integration is focused on continuous innovation as it relates to advancing the user experience, overall efficiency and staying ahead of the curve. We are never satisfied with the status quo and ensure that new technology infusion creates a positive impact to the mission.
ActioNetization
ActioNetization is what we call our process of interaction and integration among our ActioNet staff, who we fondly call ActioNeters, our internal ActioNet Service Organization (ASO) and the many programs that are part of our different business units. This process is driven by our vision and values and the result is our ActioNet Brand, which embodies:
Continuous Learning & Growing through ActioNet University (AU)
Increased Staff Certifications and Training
We encourage team cohesiveness through numerous team building activities, professional and social events
Corporate Infrastructure Investments in the ActioNet Innovation Center (AIC), which is a collaborative effort that has led to the development and integration of new technologies
Established ActioNetAgile® and ActioNetCyber® Communities of Interest (COINs)
We Promote from Within and Cultivate Leadership
We are Passionate about Giving Back to our Community through Charitable Contributions and Volunteer Activities
---
ActioNet's Core Values
Instill Integrity In Everything We Do
At ActioNet, we are committed to conducting our business with integrity, not only doing things right, but also doing the right things. We believe in transparency and accuracy with open and honest communication. Being fair and ethical are an integral part of how we do business and strengthens our relationships.
Innovate To Enable The Mission
ActioNet has continued to evolve its core service offerings to meet the needs of our customers' missions and the harsh budget realities that we now face as a nation. "Buying IT as a Service" represents as paradigm shift where expensive capital investments are being replaced by an elastic consumption model where computing power and storage can be purchased as needed and scaled up or down accordingly. Continuous Innovation is in our blood.
Make Our Customers and Each Other Successful
Our circle of success is a function of the commitment of our customers, employees and partners to build win-win-win relationships and establish trust. We all go the extra mile to make each other successful and celebrate each other's success. Customer and employee satisfaction go hand in hand and create an environment for success.
Achieve Service Delivery Excellence
Delivering what we promise with a high level of quality and on time is a foundation of service delivery excellence. Customer confidence is built on our ability to deliver time and time again with outstanding people, mature processes and leveraging technology and innovation to enable the mission. We share a common passion to never settle for the status quo. Breaking mindsets and having a "can do" and "will do" attitude helps us set the bar higher every year.
Partnership for Success
At ActioNet, we recognize that partnership is the key to success. We partner with our customers and strategic business partners to deliver innovative and cost effective solutions that meet the needs of the Mission. ActioNet has established relationships with the best and most innovative technology service providers in the world to provide true business transformation.
---
ActioNet's Mission Statement
Our core values assure delivery of high quality Solutions through ActioNetization, Innovation and Integration.
---
ActioNet's Vision Statement
ActioNet will be the Most Trusted Innogrator™ to our customers.
---
ActioNet's Quality Policy
At ActioNet, we continually improve our business innovation and service offerings to exceed customer expectations.