Vienna, VA – February 21 – March 17, 2017
ActioNet collected clean, gently used Clothing as part of the Veterans of America Clothing Drive. Clothing of all shapes and sizes are welcome. Veterans of America Clothing Drive is dedicated to distributing reusable coats, free of charge, directly to local Veterans of America. This was a great opportunity to help those in need right here in our communities during the Spring season.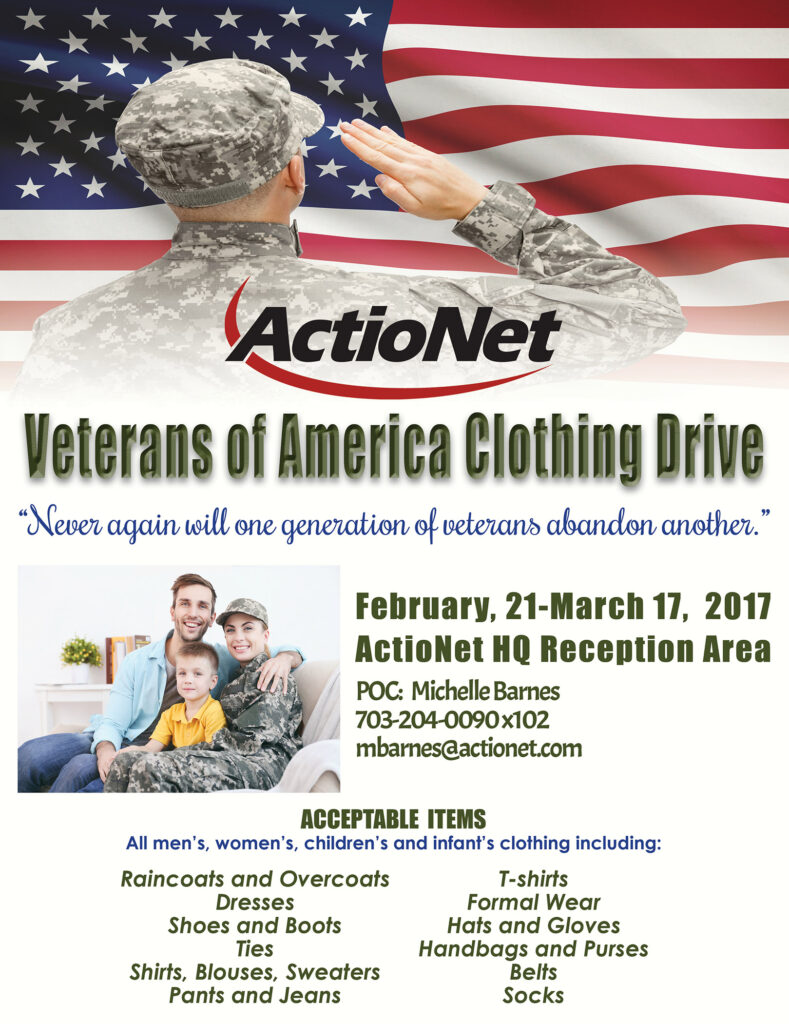 About Veterans of America
"HELPING VETERANS, COMMUNITIES, AND THOSE SERVING IN HARMS WAY". Veterans of America's mission is to promote and support the full range of issues important to all veterans. Veterans of America will be there for as long as it takes to make sure that those who serve our country receive the care and respect they have earned. Veterans of America is a respected charity that gives aid to all of America's veterans, not just those of a particular age group or war. Examples of critical support services include:
Improving the general welfare and hospital care of all veterans, especially homeless and disabled veterans
Assisting veterans suffering from Post-traumatic Stress Disorder and other disabilities
Working closely with veterans of other conflicts
Leading the topics on women and minority veterans' issues
By donating used clothes, shoes, books, and accessories, you help generate funds to take care of the soldiers and service men and women who help keep America safe from harm. Veterans of America sells your donated items to private companies by annual bid which generates the majority of the funding to support the local, state, and national programs of Veterans of America.
About ActioNet, Inc.
ActioNet, Inc., headquartered in Vienna, Virginia, is a CMMI-DEV Level 4 and CMMI-SVC Level 4, ISO 20000, ISO 27001, ISO 9001, HDI-certified, woman-owned IT Solutions Provider with strong qualifications and expertise in Cloud-based Solutions, Cyber Security and Agile Software Engineering. As a Mission-Focused, Client-Centric and Results Driven organization, ActioNet also follows the Project Management Institute (PMI) methodology as well as Information Technology Infrastructure Library (ITIL) standards. ActioNet has outstanding financial performance, as evidenced by our "Exceeds Customer Expectations" and the highest 5A1 Financial Rating from Dun & Bradstreet, a 92 out of 100 rating from Open Ratings, the 2014 National Capital Corporate Growth Award by the Association for Corporate Growth (ACG), and Washington Technology Top 100 2012-2019. ActioNet's human capital leadership is recognized by being designated one of the Best Workplaces for Commuters by the Fairfax County Department of Transportation (FCDOT) 2013-2017 and Washington Post Top Workplaces 2014- 2020. For more information, please visit our web site at www.actionet.com.
Contact: Michelle Barnes, 703-204-0090 Ext. 102, [email protected]