By Jocelyn C.
When many of us become aware the effects of natural disasters or tragedies which involve human injuries, we often hear many people ask the question "What can we do to help?" Oftentimes there is one easy answer – donating blood.
Nationwide, someone needs a unit of blood every 2 to 3 seconds and most of us will need blood in our lifetime. When our community has an adequate blood supply, it is able to support local and far-off hospitals alike during times of low supply/shortage. The need for blood is a constant one and only volunteer donors can fulfill that need for hospitals and patients.
The American Red Cross supplies 40% of blood products that support US communities and hospitals throughout the year, including when emergency situations are at hand. As most of their products are collected through the generosity of volunteers, it is essential that consistent blood drives are scheduled to keep donations up. Through the willingness of employers like ActioNet to open their doors and recruit blood donors, the lives of patients served by the American Red Cross are impacted both locally and across the country.
In January, ActioNeters in our Germantown location continued the tradition of donating blood by working with the American Red Cross to schedule a blood drive. In total, 72 donations were collected in 3 separate Blood Drive events between January 2018 – January 2019. These donations represent a potential of 200 saved lives! As a result, we at ActioNet can proudly call ourselves "American Red Cross Blood Drive Partners."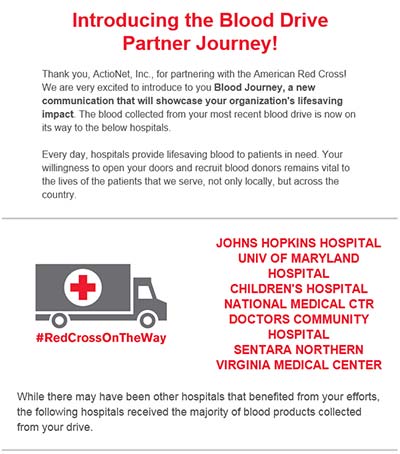 Recently we received notification that the donations collected at the most recent ActioNet drive held in January 2019 had made their way to the following local hospitals:
Johns Hopkins Hospital
University of Maryland Hospital
Children's Hospital National Medical Center
Doctors Community Hospital
Sentara Northern Virginia Medical Center
ActioNeters are ecstatic at the results of the recent blood drive. We plan to continue our Blood Drive Partner journey in our Germantown office on Tuesday, April 2, 2019 between 9:00am -2:00pm in Conference Room 240.
To find the Account Manager Representative for your area and begin the process of setting up a blood drive, contact the American Red Cross at 1-866-236-3276 or schedule online.