By Michelle B.
October is nearly over, but that doesn't mean it is the end of Breast Cancer Awareness Month for ActioNet. Earlier in the month we brought information regarding our Pink Pumpkin Contest and Testimonials initiatives. On October 28th we shared the entries of our ActioNeters to the company with our socially distanced Breast Cancer Awareness event.
Pink Pumpkin Winners
Nine of our headquarters ActioNeters flexed their creativity by submitting a total of ten pumpkins to our Pink Pumpkin Contest. Each of our contestants made a pumpkin that is personal to themselves and their families while spreading the importance of breast cancer awareness. Some entries were created in memory of family members that had passed away from cancer. Others were collaborations between the employee and their children to help remind the next generation of the importance of awareness.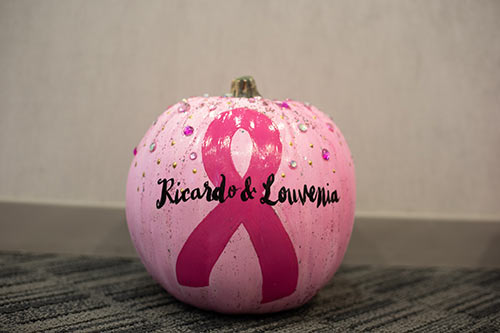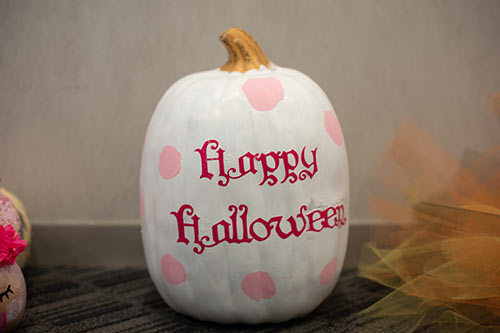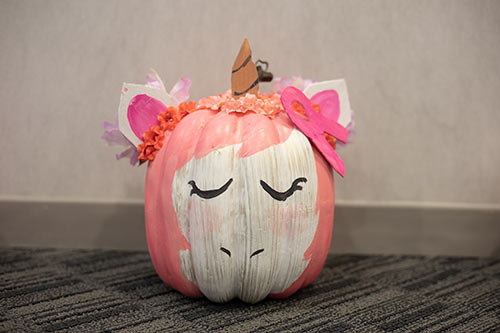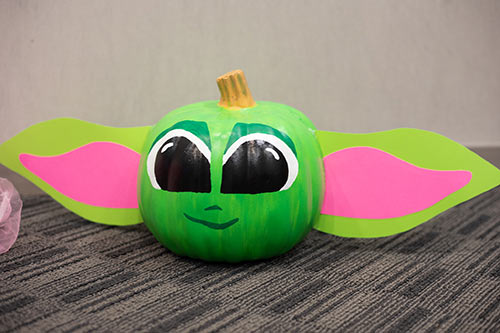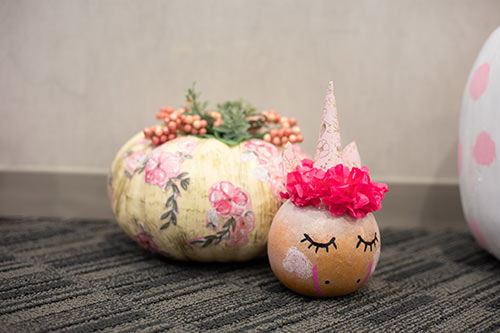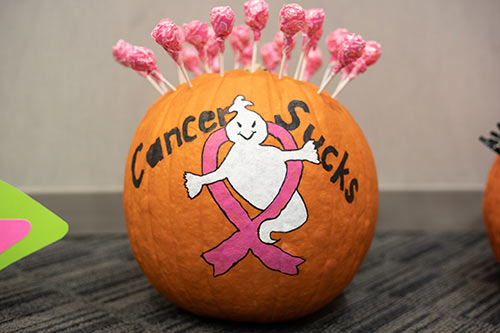 Pink Pumpkins submitted by our ActioNeters
Each of the pumpkins were lovely! The judges had hard decisions to make, but in the end three pumpkins came out on top. The second runner up was a creative Mardi Gras themed pumpkin by ActioNeter Moe D. First runner up was a fun Halloween themed pumpkin by Brandon S. The first place was this beautiful and sparkly pig themed pumpkin by new ActioNeter Luciana S!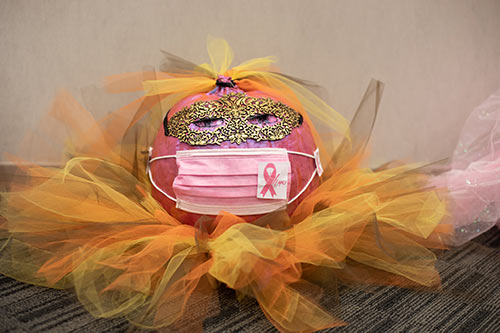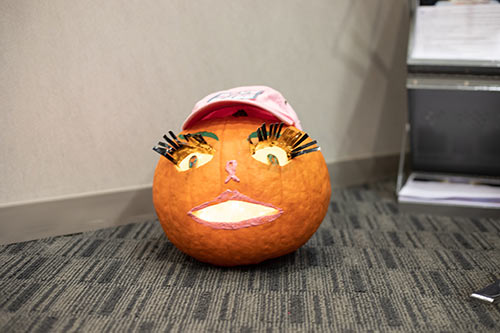 Pumpkin winners Moe (left), Brandon (center) and Luciana (right)
A sincere thank you to all our participants. The pumpkins will be on display in our 10th floor reception area through early November. We encourage everyone to come in to see the pumpkins and be reminded of the fight against breast cancer.
Testimonial Videos
ActioNet has been supporting Breast Cancer Awareness Month for years after the news of its impact on some of our employees. This year we wanted to allow our employees to tell their own stories. Two amazing ActioNeters came forward with videos regarding their relationship with breast cancer.
ActioNeter Rohini submitted her testimonial regarding her great grandmother's fight against the disease in 2004. Rohini remembers that her great grandmother had long, beautiful hair. During chemotherapy her hair began to fall out and she felt insecure about the hair loss. Rohini's great grandmother lost her battle in 2005, but the memory of her battle remained. In 2018 Rohini donated 12 inches of her hair to Pantene Beautiful Lengths to help other women feel confident through their chemotherapy treatment. Through her bravery Rohini inspired three friends to donate their locks as well!
I submitted the second testimony regarding my mother and brother. My mother is a 10-year breast cancer survivor. My brother lost his 7-year battle with breast cancer March 2017.
I was his caregiver for the last 3 years of his fight. His journey started with changes to his nipple that had begun to turn inward. My brother thought it was just part of the aging process but decided to have it checked out by his primary doctor. Mammogram, biopsy and blood tests determined that he was in stage III breast cancer. As years passed, the cancer progressed to stage IV and spread to his bone, brain, liver and lungs. People who did not know him would never have thought that he was terminally ill. His attitude remained positive and he continually praised the care given by the oncology staff for his quality of life.
View the testimonials in our Breast Cancer Awareness Month Video
Continuing the Fight
Though October is coming to a close we can still continue to bring awareness to breast cancer and advocate for early detection. Men and women alike should check for lumps, swelling, and other warning signs. Consult a doctor immediately when you notice an unusual sign or symptom.
Cancer has no respect of person; Spread the word about mammograms and raise awareness about the importance of early detection of breast cancer.