Peter Chang takes a photo with his ActioNet volunteers
By Laura L.
Last Friday (11/15),  ActioNet hosted our 2019 Pot (Sticker) Luck at our HQ in Vienna, VA.  There were more than 120 ActioNeters that participated at the event.  The room was packed and it was a hit!
Dumplings (AKA jiaozi) represent 2,000 year old classic Chinese home cooking.  What really makes dumplings special is that the preparation part always involves all of the family and other loved ones, creating important bonding moments among everybody.
On November 15th, Peter Chang proudly demonstrated hand making of the rainbow dumplings that are naturally colored in bright White, Red, Orange and Green, filled with different combinations of flavors.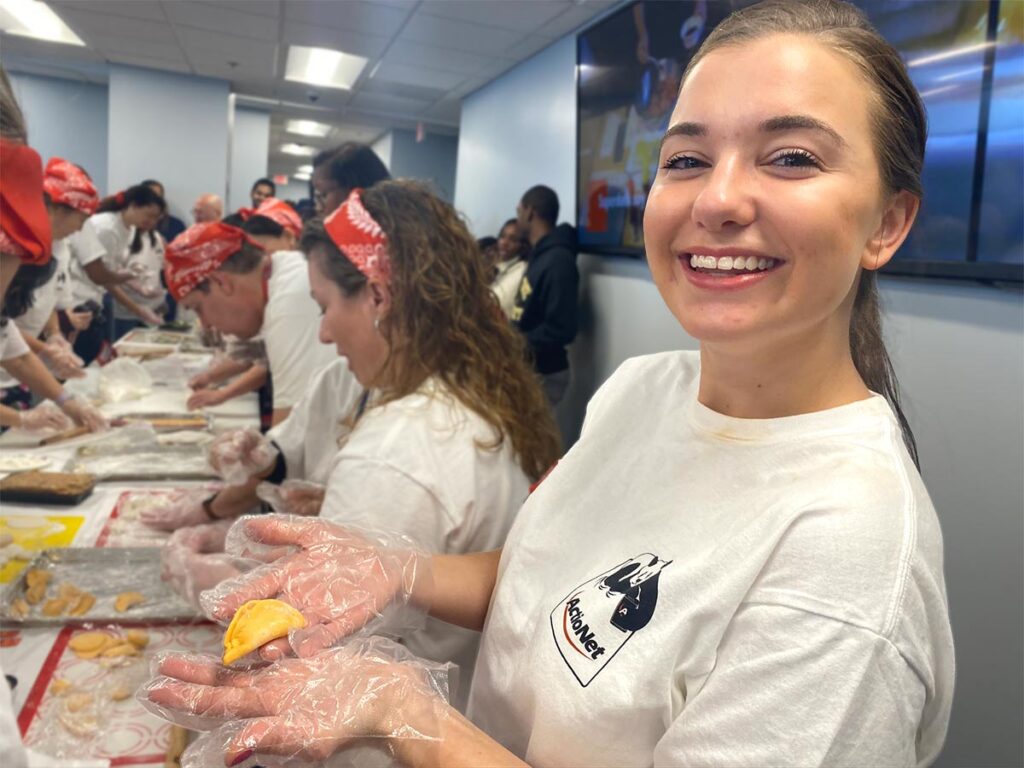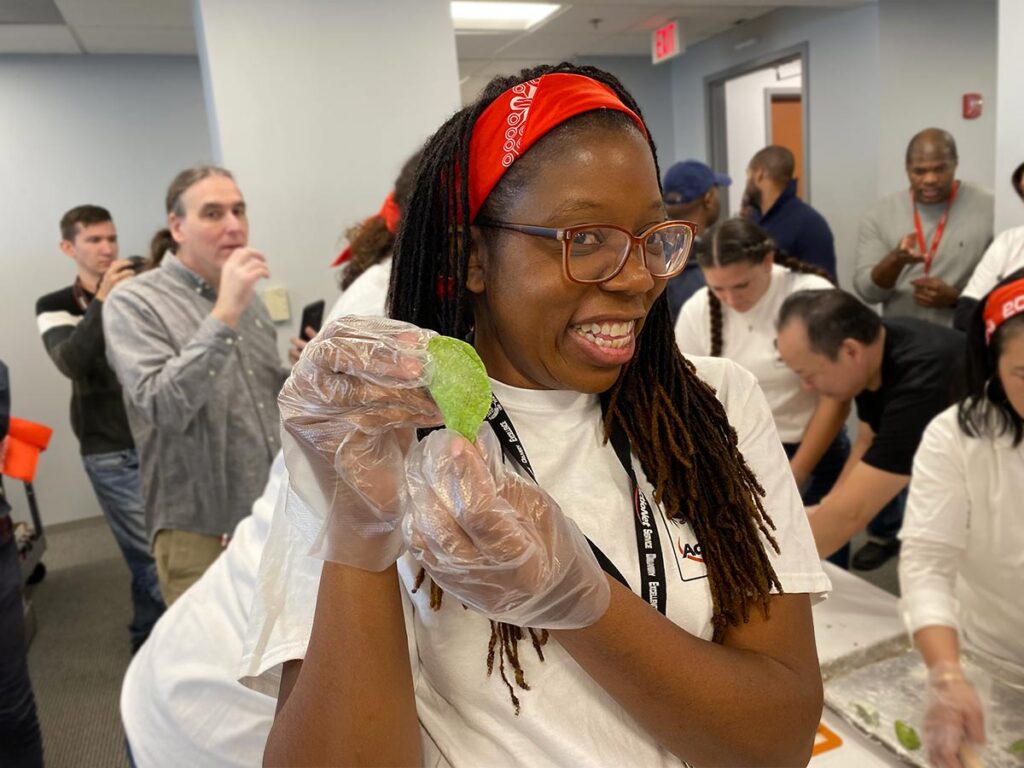 ActioNeters joined the fun, chatting, laughing while working the dough, the fillings, and folding the dumplings. Some looked better than others, but we all had fun. A warmth for the tummy, a feast for the eyes, no artificial coloring and four natural combinations:
1) Classic White Dumplings:
Dough: Classic regular dough made of wheat flour and water
Ingredients: Minced Pork + Chinese Cabbage
2) Vivid Red Dumplings:  
Dough: Color comes from Beets
Ingredients: Minced Beef + Chinese Celery
3) Lucky Orange Dumplings:
Dough: Color comes from Carrots
Ingredients: Minced Chicken + Green Beans
4) Fresh Green Dumplings (For Vegetarians):
Dough: Color comes from Kale (Superfood)
Ingredients: Various Vegetables
To make the dumpling dishes even more scrumptious, following six popular healthy side dishes were also provided with quite positive feedback:
Green Pepper with Black Tree Ear (山椒黑木耳)
Silky Tofu Skin with Sesame Oil (香油鲜腐皮丝)
Fresh Garlic Cucumber (蒜蓉黄瓜)
Stir Fried Cauliflower (干煸花菜)
Tasty Shredded Chicken (棒棒鸡丝)
Roasted Fresh Broccoli (花椰菜)
Please check out Peter Chang's instructional video for more inspiration and instruction. At ActioNet, we work hard, play hard and make delicious dumplings.  We hope this will be your best highlight of the day!