July 23 – August 24, 2018
Vienna, VA
ActioNet will be hosting our 2018-2019 academic year Back to School Supply Drive Kickoff, Friday, July 20, 2016 during the July Ice Cream Birthday Celebration, in the HQ 6th Floor Kitchen Area. This year's recipient of all donations is Drew Model School located in South Arlington, Virginia. The budget at Drew Model is reportedly below other N. Arlington schools and a large number of the students are from low income families.
Donations of new school items will be accepted July 23 – August 24, 2017. The donation box is location at ActioNet HQ reception area.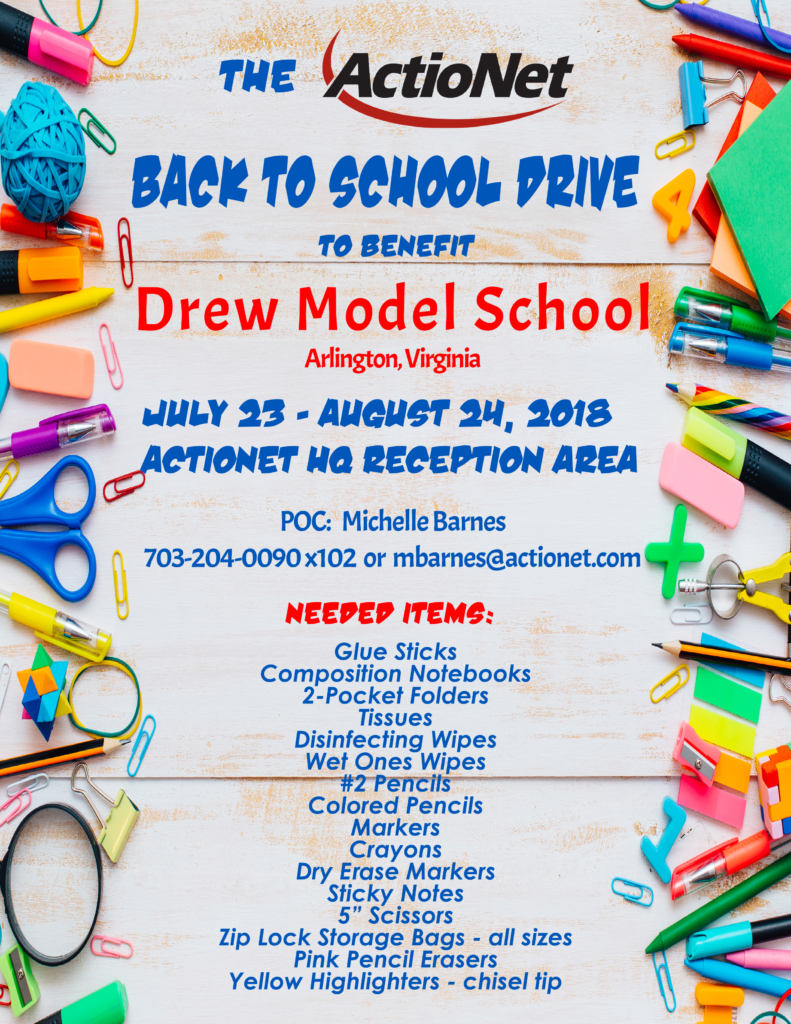 About Drew Model School
Drew Model is a neighborhood, countywide elementary school serving immediate Nauck neighborhood and Arlington residents across the county.  Academics, Appreciation, Accountability and Arts are the four A's of the Drew Model Elementary School program. The Four A's are integrated throughout two instructional programs, Model and Montessori. The Model program incorporates traditional practices serving children age four to grade five. Children of the same age group explore hands-on learning activities through individual, small group and whole class teacher-guided lessons. The Montessori program is based upon Dr. Maria Montessori's philosophy of "educating the whole child." Children age three to grade five engage in learning activities of their own choosing in a multi-age, well-ordered physical environment.   Drew Model School Offers:
 

Multi-age Montessori program for children ages 3-11

Smaller Age-grouped classes K-5

Virginia Preschool Initiative (VPI)-Full day program four year old children

Changing Education Through the Arts partnership with the Kennedy Center (CETA)

Experienced, Dedicated Faculty

Classroom Volunteers

The Drew Model School PTA

Business Partnerships

County-Wide Transportation

Character Education/Peer Mediation Program

Drew TV Video/Film Production Program

Drew Coding/Robotics Curriculum

Young Scholars Program



For more information, please visit the website at https://drew.apsva.us/
About ActioNet, Inc.
ActioNet, Inc., headquartered in Vienna, Virginia, is an SEI CMMI® Level 3, ISO 20000, ISO 27000, ISO 9000, HDI-certified, woman-owned IT Engineering Services Firm with strong qualifications and expertise in Cloud-based Solutions, Cyber Security and Agile Software Engineering. As a Mission-Focused, Client-Centric and Results-Driven organization, ActioNet also follows the Project Management Institute (PMI) methodology as well as Information Technology Infrastructure Library (ITIL) standards. ActioNet has outstanding financial performance, as evidenced by our "Exceeds Customer Expectations" and the highest 5A1 Financial Rating from Dun & Bradstreet, a 92 out of 100 rating from Open Ratings, the 2014 National Capital Corporate Growth Award by the Association for Corporate Growth (ACG), and Washington Technology Top 100 2013-2018. ActioNet's human capital leadership is recognized by being designated one of the Best Workplaces for Commuters℠ by the Fairfax County Department of Transportation (FCDOT) 2013-2018 and Washington Post Top Workplaces 2014-2018.
For more information, please visit our website at www.actionet.com
Contact: Michelle Barnes, 703-204-0090 Ext. 102, BD@actionet.com