Written by Amanda S.
On December 3rd, the ActioNet Recruiting Team had the privilege of volunteering for a wonderful organization called Food and Friends in Washington, DC. Food and Friends' goal is to foster a community caring for men, women, and children living with life-challenging illnesses by preparing and delivering specialized meals and groceries along with nutrition counseling.
The ActioNet Recruiting Team was looking for a way to give back to our local community during the holiday season. That is when I came up with the idea to see if I could find anything on http://www.volunteermatch.org/. After entering in our group's interests and how we were looking to give back, I was matched with Food and Friends. I immediately reached out to Andrece Bassett, the Volunteer Services Coordinator at Food and Friends. She explained that they were booked for the next two months but could put us on the calendar for early December.
On December 3rd, we arrived to the Food and Friends building not knowing what to except. We were greeted and told to gather in the conference room where they did a quick briefing on food safety and who was benefiting from the day's session. After the quick briefing, we put on our gloves and hairnets to start packaging. We were part of the food preparation and packaging team. In just two hours, we prepared/packed enough food to feed three hundred people three meals each.
It was a great team building opportunity for us while giving back to people in need. Everyone had a blast and the time flew by. Food and Friends even rewarded us for our hard work by baking us delicious warm chocolate chip cookies. We hope to go back and help out at Food and Friends again.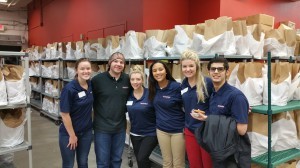 L to R: Carsen A., Anthony P., Amanda S., Angela D., Lauren P., and Jonathan D.