Written by Aparna S.
United Nations of ActioNet – International Cultural Diversity Day
The Health Services Business Unit, located largely in Baltimore, celebrated its cultural diversity with a United Nations of ActioNet Day. The event, held on Friday, June 10, was attended by over 230 employees. The festivities showcased traditional cuisine and clothing, and several employees exhibited their ethnic background with displays and presentations set-up throughout the building.
Employees gathered in the Courtyard for the beginning of the festivities as Chris S., Program Manager, announced that ActioNet had won the HHS SPARC F&O Award as a large business. The Strategic Partners Acquisition Readiness Contract (SPARC) award represents the largest full and open IDIQ award ActioNet has received to date.
David C., (Health Services VP), Robyn T. (Health Services, Director) and Chris thanked the team for their contributions and continued support in making ActioNet Health Service programs a success. Without successful delivery, and dedicated employees, winning awards like SPARC simply could not happen.
Several individual employees were awarded Certificates of Appreciation and Letters of Recognition for their contributions:
Award
Awardee
Customer Services Hero Award

(For having super-human dedication and providing top-notch service to meet the customer's needs!)

Pia N.
Yoda Award

(For sharing your wisdom and mentoring your peers!)

Chandana K.

Toby W.

Helping Hands Award

(For pitching in to get the job done!)

Yibing Z.

Meera V.

Lighthouse Award

(For doing an outstanding job guiding other team members!)

Hemuben P.

Diane W.

Nadeem A.

Yi X.

Lumberjack Award

(For taking on a heavy workload to get the job done!)

Komalatha E.

Geeta B.

Mansi V.

Obinna N.

Shamita K.

Haritha P.

Sharon K.

Tesfu H.

Maarten O.

Udoka A.

CPC+ Support Appreciation
David H.
The awards ceremony was followed by the United Nations of ActioNet fashion show emceed by Alex Appah. Models and countries included, among others, Vietnam, Nigeria, Japan, Jamaica, Egypt and India.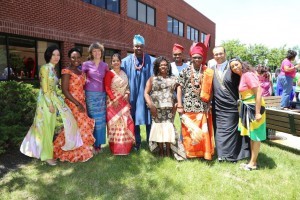 Attendees were then entertained by Sagarika D. who sang a beautiful Indian love song. An energetic dance number was performed by Efua O. and Udoka A. Lastly, an exciting dance routine was executed by the "Desi Boys" – Akshay K., Venkat K., Sankarsh N., Pratheek R. and Kumar G.
The celebration and fellowship continued inside with food from around the world, prepared and brought in by employees. Savory maduro con queso from Ecuador; samosas, pakoa, matri, chicken biryani, vegetable biryani, chicken curry, mirchi, and naan from India; hot dogs, pasta salad, Rice Krispy treats and chocolate chip cookies represented the USA. Empanadas from Spain, Ethiopian bread, stews and a variety of rice dishes were just a few of the items shared and enjoyed by all.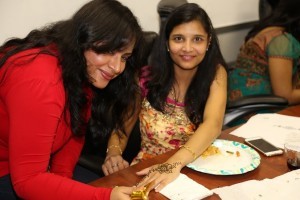 Employees representing their Indian culture, applied Henna tattoos on hands, necks, arms and calves of employees who lined up for this ancient body adorning technique. Intricate Henna tattoo patterns have been used to decorate young women's bodies and was regarded then as having blessings and is applied for luck as well as joy and beauty.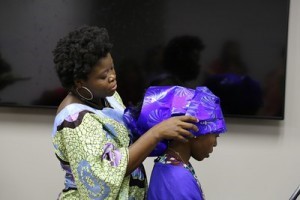 In another room, employees of Nigerian heritage demonstrated how to tie a "Gele", the elaborate headscarves worn by African women. Brilliant pieces of patterned cloth squares were transformed into elaborate and beautiful head coverings on several employees.
More often than not we have more in common with one another than we think. We just need to reach out our hands, and listen to one another with an open heart. The sound of laughter, music and chatter among the participants was evidence that it is indeed a small world after all!
More pictures from this event can be found at: https://kupisch.smugmug.com/ActioNet/United-Nations-of-ActioNet/n-KKJTCN