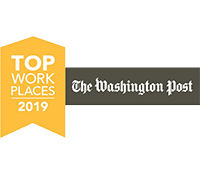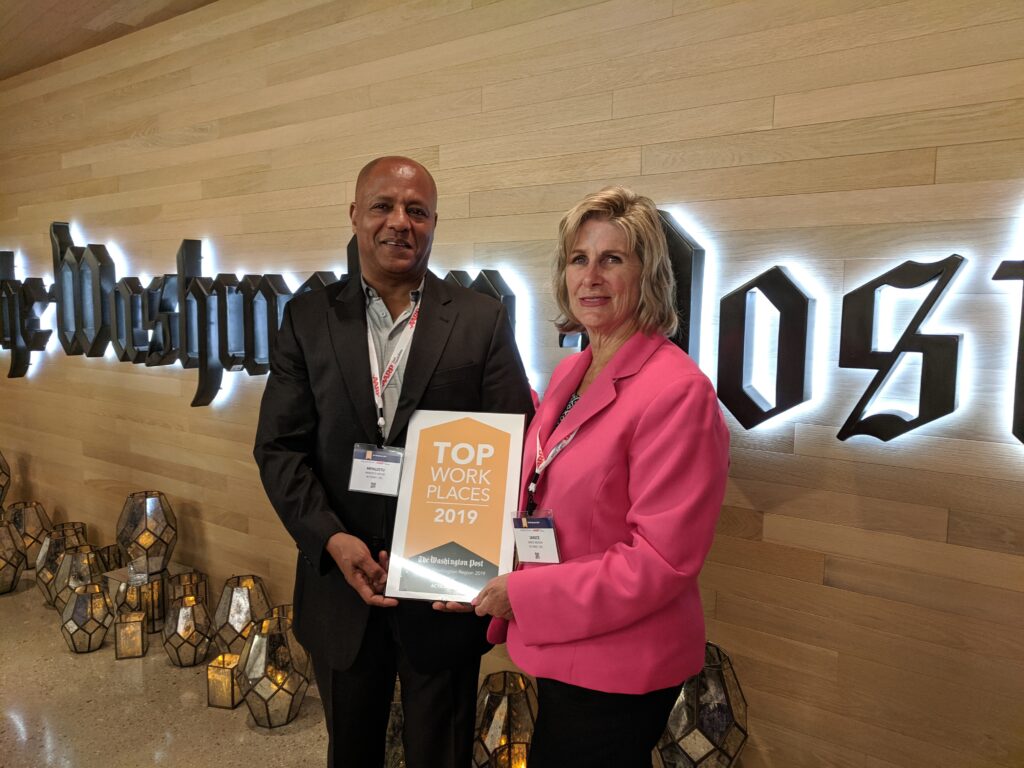 Vienna, VA
ActioNet, Inc. is pleased to announce that it was has been named one of The Washington Post's 2019 Top Workplaces in the Washington, D.C. area for the Sixth Year in a Row! Selection is based solely on employee feedback gathered through an anonymous third-party survey administered by research partner Energage, LLC, which measured several aspects of workplace culture, including alignment, execution, and connection. This year's list honors more than 150 companies including government contractors, law firms, nonprofits, schools, and businesses. "We are proud of our diverse and nurturing work environment where people care about each other, our customers and their Missions, as well as the communities that we are privileged to be a part of. Together, we have and will continue to make a difference," said Jeffrey D. Abish, President & CAO.
ABOUT THE WASHINGTON POST AND TOP WORKPLACES 2019
The Washington Post is an award-winning news leader whose mission is to connect, inform, and enlighten local, national and global readers with trustworthy reporting, in-depth analysis and engaging opinions. It combines world-class journalism with the latest technology and tools so readers can interact with The Post anytime, anywhere.
Energage (formerly known as WorkplaceDynamics) and Headquartered in Exton, PA., is a leading provider of technology-based employee engagement tools that help leaders to unlock potential, inspire performance, and achieve amazing results within their organizations. The research partner behind the Top Workplaces program, Energage has surveyed more than 47,000 organizations representing well over 16 million employees in the United States. For The Washington Post Top Workplaces 2019 list, please see their site.
ABOUT ACTIONET, INC.
ActioNet, Inc., headquartered in Vienna, Virginia, is a CMMI-DEV Level 4 and CMMI-SVC Level 4, ISO 20000, ISO 27001, ISO 9001, HDI-certified, woman-owned IT Solutions Provider with strong qualifications and expertise in Cloud-based Solutions, Cyber Security and Agile Software Engineering. As a Mission-Focused, Client-Centric and Results Driven organization, ActioNet also follows the Project Management Institute (PMI) methodology as well as Information Technology Infrastructure Library (ITIL) standards. ActioNet has outstanding financial performance, as evidenced by our "Exceeds Customer Expectations" and the highest 5A1 Financial Rating from Dun & Bradstreet, a 92 out of 100 rating from Open Ratings, the 2014 National Capital Corporate Growth Award by the Association for Corporate Growth (ACG), and Washington Technology Top 100 2012-2019. ActioNet's human capital leadership is recognized by being designated one of the Best Workplaces for Commuters by the Fairfax County Department of Transportation (FCDOT) 2013-2017 and Washington Post Top Workplaces 2014- 2020. For more information, please visit our web site at www.actionet.com.
CONTACT:
Michelle Barnes, 703-204-0090 Ext. 102, [email protected]