Honolulu, HI
CyberPatriot is the National Youth Cyber Education Program created by the Air Force Association (AFA) to inspire K-12 students toward careers in cybersecurity or other science, technology, engineering, and mathematics (STEM) disciplines critical to our nation's future. ActioNet supported the Moanalua High School Air Force Junior Reserve Officer Training Corp (AF JROTC) and High School CyberPatriot teams by providing Cisco routers, laptops and printers, critical for their participation in the 2018-2019 CyberPatriot competition.

The CyberPatriot XI season began in October 2018 with 6387 high school and middle school teams from around the globe registering.  There were 116 High School and Middle School teams from Hawaii participating in the All Service Division (JROTC) and the Open Division (regular High School teams.) ActioNet's generous support of the 2018-2019 Air Force Association CyberPatriot program helped Moanalua High School Air Force JROTC team place third in the nation-wide All Service Division. ActioNet CEO Ashley Chen was presented with a Letter of Appreciation from the Moanalua High School JROTC CyberPatriot Team.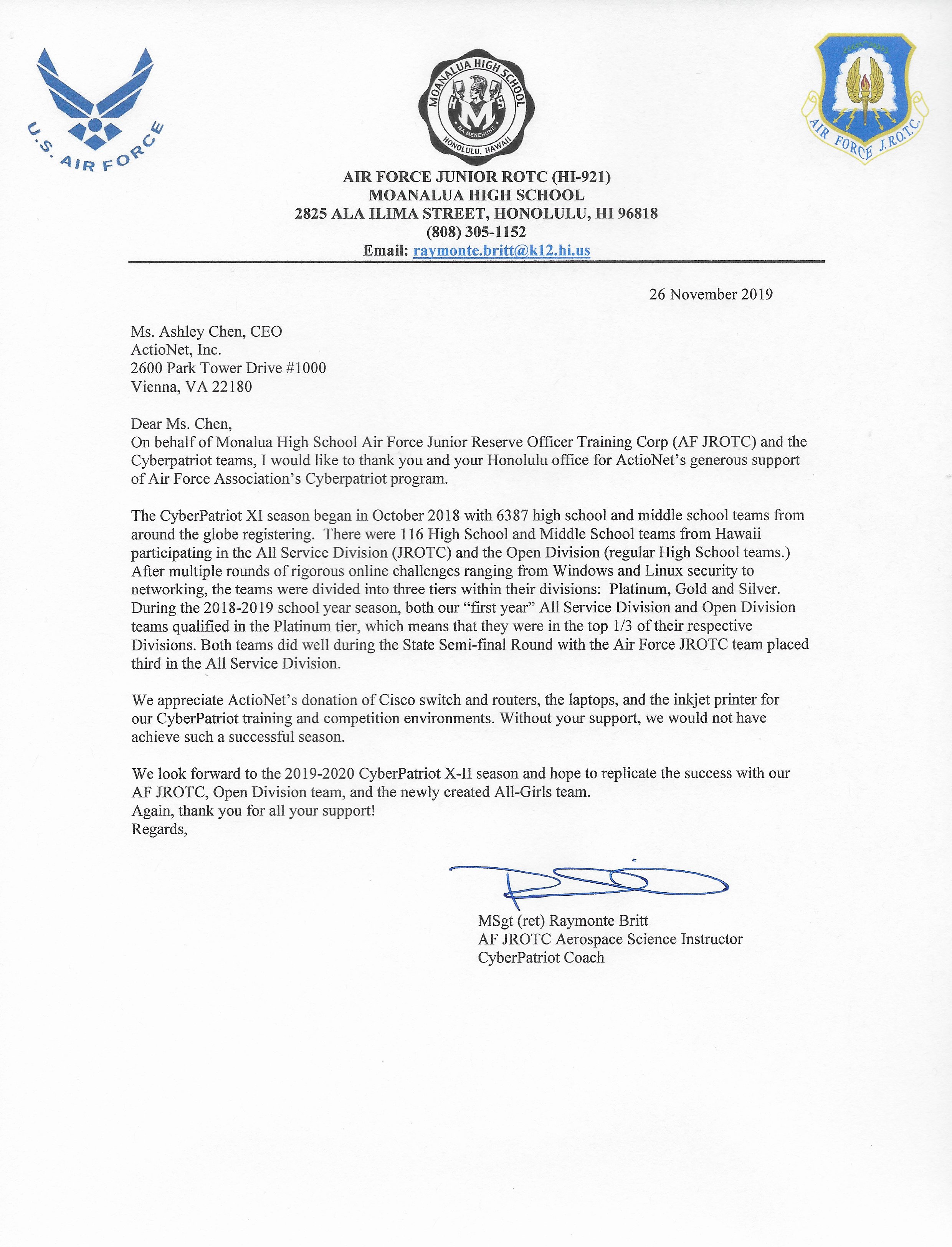 ABOUT ACTIONET, INC.
ActioNet, Inc., headquartered in Vienna, Virginia, is a CMMI®-DEV Level 4, CMMI®-SVC Level 4, ISO 20000, ISO 27001, ISO 9001, HDI-certified, woman-owned IT Solutions Provider with strong qualifications and expertise in Cloud-based Solutions, Cyber Security and Agile Software Engineering. As a Mission-Focused, Client-Centric and Results-Driven organization, ActioNet also follows the Project Management Institute (PMI) methodology as well as Information Technology Infrastructure Library (ITIL) standards. ActioNet has outstanding financial performance, as evidenced by our "Exceeds Customer Expectations" and the highest 5A1 Financial Rating from Dun & Bradstreet, a 92 out of 100 rating from Open Ratings, the 2014 National Capital Corporate Growth Award by the Association for Corporate Growth (ACG), and Washington Technology Top 100 2013-2019. ActioNet's human capital leadership is recognized by being designated one of the Best Workplaces for Commuters by the Fairfax County Department of Transportation (FCDOT) 2013-2017 and Washington Post Top Workplaces 2014- 2019. For more information, please visit our web site at www.actionet.com
CONTACT:
Michelle Barnes, 703-204-0090 Ext. 102, BD@actionet.com