Written by Tony W.
When our customers ask questions about Cloud Computing, the first thought for many of us is Amazon Web Services (AWS). While Amazon's large suite of cloud products is a good choice for some customers looking to move to the Cloud, we should remember it's not the only choice.
Customers that use VMware as their virtualization technology in their on-premise Data Centers will find that moving to AWS means a change to both the way systems are managed and to the virtual machines themselves. AWS has made it easy to build virtual machines from a standard set of AWS Machine Images or AMIs and it is relatively easy to convert a VMware VM for use in the Amazon infrastructure – but that's the extent of Amazon's interoperability. Once you join the AWS ecosystem, it is very difficult to move out of the environment.
A better choice for VMware centric customers could be the VMware vCloud Government Service (vCGS). VMware has developed a FedRAMP compliant cloud for government agencies through a partnership with multiple Data Center providers. ActioNet is a VMware business partner and we are able to offer this cloud solution to our customers as well as their managed hosting, and colocation services. Colocation is often very important to organizations that want to move away from maintaining a physical data center but have legacy applications that require refactoring before they are cloud ready. The vCloud Government Service offering embraces a "Cloud of Clouds" environment supporting a Direct Connect link to the AWS Cloud as well as a consolidate portal view to manage distributed resources across multiple Cloud platforms.

There are several use cases that would make vCGS an excellent choice. For customers that are running VMware in their existing data center, vCGS gives them the ability to move workloads into a public cloud, and back. The "and back" is a key differentiator when it comes to cloud providers. This prevents lock-in to any one Cloud Service Provider (CSP). If a customer is unhappy with the performance or availability of their systems with a given CSP, they can easily move it back on premise, or to another provider.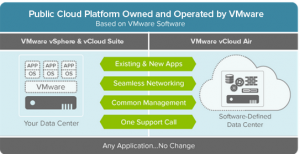 Another key differentiator and advantage to using VMware and the vCGS is the ability to have a private cloud within the Hosted Data Center. This means if a customer has sensitive data that must be physically separated, or meet HIPAA requirements for security and compliance, they can have their own physically separated rack or racks of equipment within the vCGS. This is a feature that is not offered by AWS or many other cloud providers. Using VMware and vCGS gives our customers the ability to have a truly scalable "Cloud of Clouds" – that implements private, community, and hybrid cloud models using the same tool sets and same skill sets across all environments.
It is important for us to know and understand the diverse Cloud Services options that ActioNet can provide customers. This enables us to think differently about potential solutions and ways to manage infrastructure, applications, and services in a manner never envisioned or enabled by a traditional data center environment.