ActioNet is a leading IT integrator, dedicated to innovative solutions and service delivery excellence.
Your Trusted Innogrator™
Our ultimate success rides on our ability to maximize the potential of People, Process and Technology in the Solutions we provide to our customers. Connecting these critical "dots" and keeping them connected are part of the fundamental building blocks of establishing a foundation for success. The combined creative forces of Innovation and Integration are further reinforced by our core values, which we call ActioNetization. The roles of Innovator + Integrator = Your Trusted Innogrator™.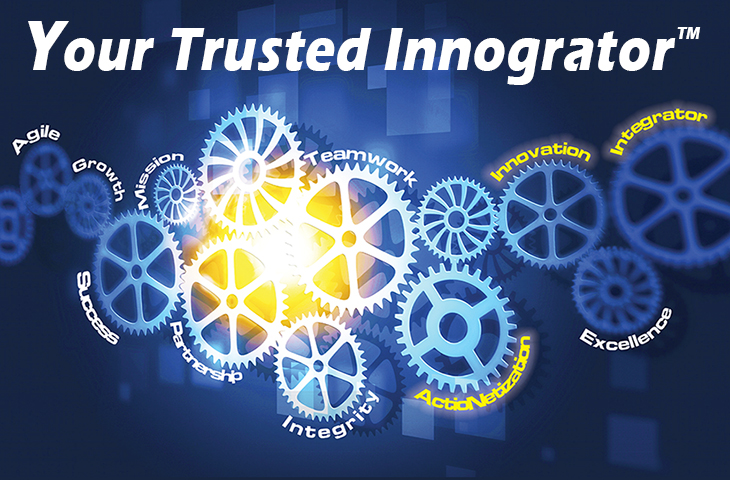 Innovation
ActioNet's ability to Innovate helps enable the missions of our customers and ActioNet as a whole. Our service offerings enable business transformation and mission support, applying a creative approach to supporting operational needs across the federal government and private sector:
Think outside of the box in optimizing and adapting business processes to current needs
Deliver secure solutions faster, for less money, & with fewer resources
Future-ready technology architectures, methodologies, standards & platforms
Increase efficiency, automation, quality, security & flexibility
Integration
ActioNet, as an IT integrator, brings together the right resources including subject matter expertise (both internal and trusted partners), mature processes and technology components and weaves them into cohesive, scalable solutions. We view and embrace our Customers' Missions as our own and provide value through collaborative, cohesive solutions integration. ActioNet Services are available through many GWAC/IDIQ contract vehicles that provide our customers with easy access and the ability to handle rapid turnaround times.
The proactive nature of IT Integration is focused on continuous innovation as it relates to advancing the user experience, overall efficiency and staying ahead of the curve. We are never satisfied with the status quo and ensure that new technology infusion creates a positive impact to the mission.
ActioNetization
ActioNetization is what we call our process of interaction and integration among our ActioNet staff, who we fondly call ActioNeters, our internal ActioNet Service Organization (ASO) and the many programs that are part of our different business units. This process is driven by our vision and values and the result is our ActioNet Brand, which embodies:
Continuous Learning & Growing through ActioNet University (AU)
Increased Staff Certifications and Training
We encourage team cohesiveness through numerous team building activities, professional and social events
Corporate Infrastructure Investments in the ActioNet Innovation Center (AIC), which is a collaborative effort that has led to the development and integration of new technologies
Established ActioNetAgile® and ActioNetCyber® Communities of Interest (COINs)
We Promote from Within and Cultivate Leadership
We are Passionate about Giving Back to our Community through Charitable Contributions and Volunteer Activities