Mark Your Calendar for ActioNet DC Winter Party & 21st Anniversary Celebration on 1/5/2019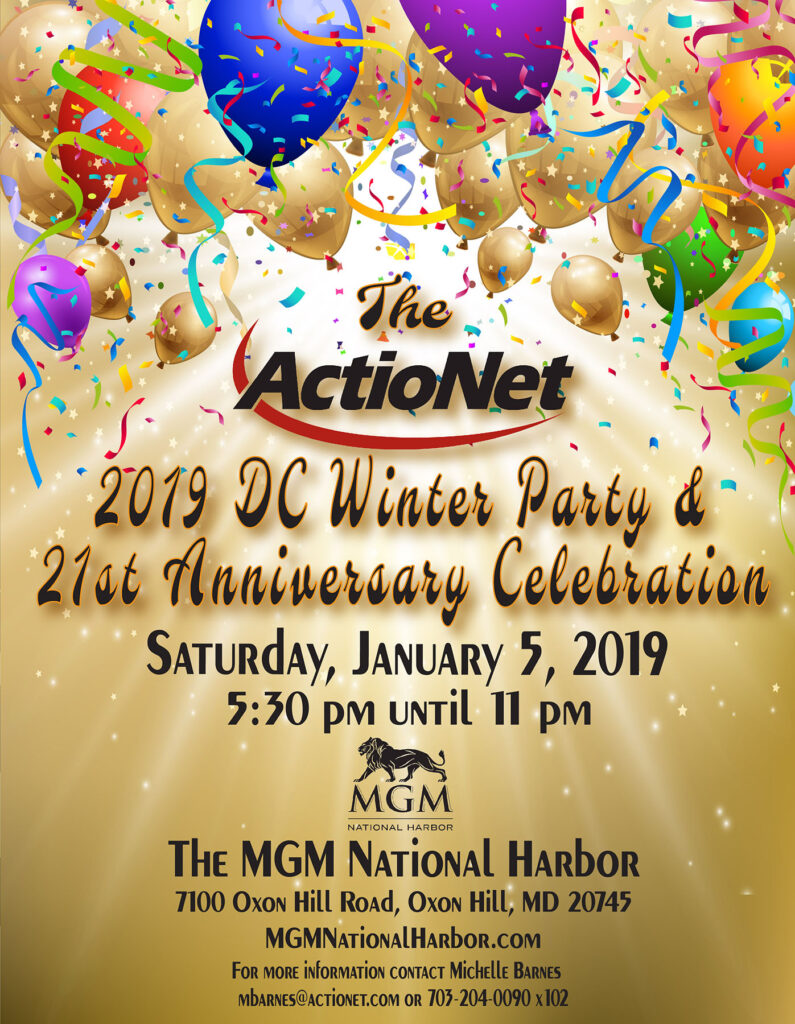 Driving Directions to the MGM National Harbor
From Interstate 495 / 95 Southbound
From I-495 / 95 Southbound, take I-495 N / I-95 North to Harborview Ave at National Harbor. Take Exit 2A – 2B to National Harbor. Keep left and follow signs for Harborview Ave. Stay on Harborview Ave until you reach Oxon Hill Road.
From Interstate 495 / 95 Northbound
From I-495 / 95 Northbound, take I-495 S / I-95 S. Proceed to take Exit 3A for Maryland 210 toward Forest Heights / Indian Head. Once on Forest Heights / Indian Head use the right lane to take the MD-414/Oxon Hill Road ramp. Turn left onto Oxon Hill Road.
Parking
Free Self-Parking
Self-Parking for guests is completely complimentary.
Valet | $25-45
Valet parking will be available 24-hours per day. Rate will be $25 for up to 12 hours, $45 for 12-24 hours. Registered hotel guests utilizing Valet parking will enjoy "in and out" privileges, allowing them to retrieve their vehicles any number of times during the day while paying only one overnight fee.
MGM National Harbor has two separate Valet arrival areas, each features designated guest drop-off locations.
One Valet for Hotel guests leads directly to the Hotel Check-In area

A separate Valet area is offered for the convenience of casino, restaurant, theater, and conference guests
Directions from Self-Parking Garage to Event Space
Once guests park in the self-parking garage, take the elevator to the "C" Casino level (all of the elevators from the self-parking garage has a Casino level "C" button). Upon exiting the elevator you will be in the restaurant district hallway. Follow the hall all the way around to the conservatory. There is a directional sign for conservatory. You will be walking towards Jose Andres Fish restaurant. You will pass Voltaggio Steakhouse, Starbucks, The National Market, the retail stores, Ginger and then will reach the conservatory. Take the escalators from that level up to the Hotel level. Once off the elevators they will see the MGM Grand Ballroom straight ahead.
Schedule
Menu
Hors D'oeuvres
Caprese Skewer with Pesto
Arancini, Mozzarella Stuffed
Petite Beef Wellington
Chicken Katsu Skewer
Curry Chicken Rillette
Triple Cream Brie & Fig Chutney Crostini
Three – Course Plated Dinner Menu
Starter
Harvest Salad
Entrees (Selection of One)
Lemon Thyme Chicken Breast, Boneless Thigh, Artichoke, Brussels Sprouts, Foraged Mushrooms, Marscapone Golden Polenta, Citrus Brown Chicken Jus

Barolo-Braised Short Rib and Miso White Sea Bass, Roasted Heirloom Carrots, Bloomsdale Spinach, Potato Dauphinoise, Barolo Demi

Vegetarian Upon Request (Chef's Choice)
Dessert
Chocolate Trilogy
Vanilla Chocolate Mousse Shot Glass
Vanilla Chocolate Dome
Key Lime Tart
Coffee and Tea
Beverages
Unlimited non-Alcohol Drinks available at the Bar
2 Alcohol Drink Tickets per Guest
MGM Hotel Info
Toll free number to call center is (844) 346-4664. Select option 2 for reservations. Make sure to ask for the ActioNet room block at the rate of $279.00, plus 6% tax, 18% Prince George's County room tax, and a $23.59 resort fee. All reservations and any changes must be made before the resevations due date, Thursday, December 6, 2018.
MGM Floor Plans