Honolulu, HI – August 12, 2016
Each year, Helping Hands Hawaii/Ready to Learn (RTL) partners with social service agencies across Hawaii and generous donors from the community to help prepare thousands of local children (Grades K-12) for the upcoming school year.
With the school year coming up quickly for many kids here in Hawaii, our team was excited at the opportunity to help ensure each child begins this school year prepared and equipped with the necessary supplies needed to assist them in their learning.
ActioNeters L to R: Kerry Y., Rey P., Alan W., Elmer O., Dennis I., Richard G., Joel R., Craig K., Burt Y., Pati M., Gerald G., Matt S., Sue J.
ActioNet Hawaii team members across the island provided various school supplies including backpacks, folders, spiral notebooks, pens, pencils, crayons, glue, lunch boxes, and much more!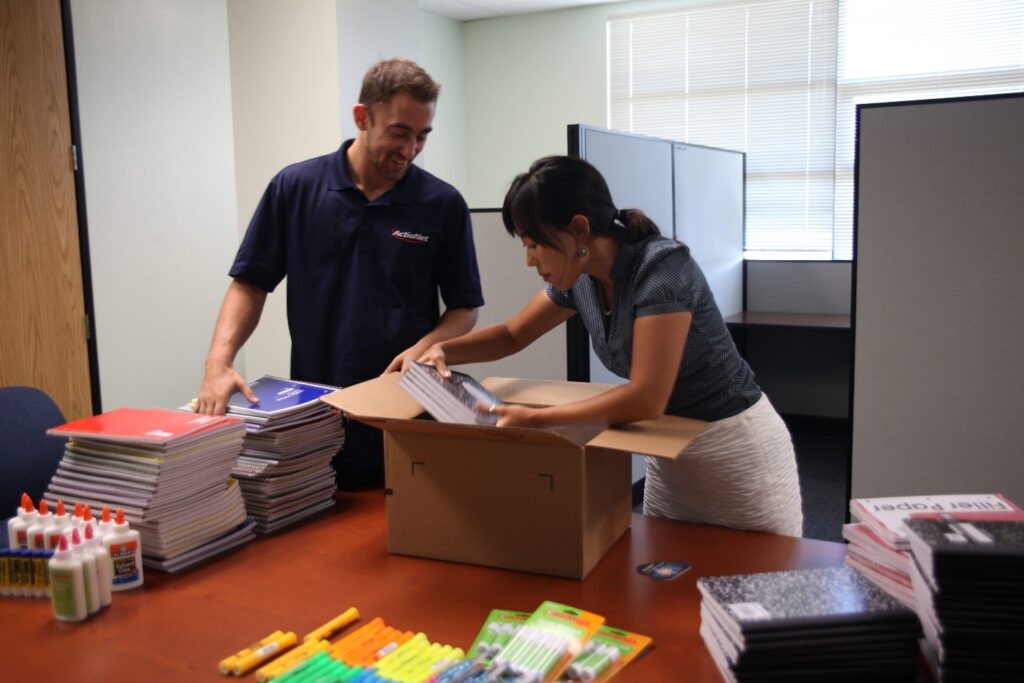 About the Ready to Learn Program
In 1999, the late Senator Daniel and Maggie Inouye initiated the RTL program in collaboration with Helping Hands Hawai'i. The program has become very successful over the years, and in 2005 Helping Hands Hawai'i took over statewide administration of this initiative. With the support of many donors in the community, the program helps over 7,000 students statewide each year. Helping Hands Hawaii and RTL continues to collect supplies year around to ensure that children of Hawaii do not run out of the basic supplies that they will need throughout their school year. Individuals, groups or businesses can organize a School Supply Drive to help support RTL. For more information and for help getting started, please call (808) 440-3857 or email rtl@helpinghandshawaii.org.
About ActioNet, Inc.
ActioNet, Inc., headquartered in Vienna, Virginia, is a CMMI-DEV Level 4 and CMMI-SVC Level 4, ISO 20000, ISO 27001, ISO 9001, HDI-certified, woman-owned IT Solutions Provider with strong qualifications and expertise in Cloud-based Solutions, Cyber Security and Agile Software Engineering. As a Mission-Focused, Client-Centric and Results Driven organization, ActioNet also follows the Project Management Institute (PMI) methodology as well as Information Technology Infrastructure Library (ITIL) standards. ActioNet has outstanding financial performance, as evidenced by our "Exceeds Customer Expectations" and the highest 5A1 Financial Rating from Dun & Bradstreet, a 92 out of 100 rating from Open Ratings, the 2014 National Capital Corporate Growth Award by the Association for Corporate Growth (ACG), and Washington Technology Top 100 2012-2019. ActioNet's human capital leadership is recognized by being designated one of the Best Workplaces for Commuters by the Fairfax County Department of Transportation (FCDOT) 2013-2017 and Washington Post Top Workplaces 2014- 2020. For more information, please visit our web site at www.actionet.com.
Contact: Michelle Barnes, 703-204-0090 Ext. 102, BD@actionet.com