June 14, 2021 Update
Vienna, VA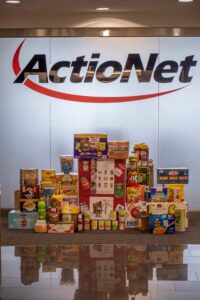 By Michelle B.
As we faced the public health emergency of the COVID pandemic, one year later, many of us are looking forward to returning to normalcy in the months ahead.  However, thousands of local families are still recovering from the financial losses they suffered during the initial lockdowns, and many people's lives are still disrupted.  ActioNet is proud of the response for the sponsored Food for Others donation drive. You've started to collect food donations and sent us food for families on Amazon.  For those of you who have collected food donations, thank you.  Donations of canned and dry goods consisted of 29 boxes (over 773 items).  Thank you for your support and making for a successful food drive!
Now through May 31st, 2021
Vienna, VA
ActioNet will be collecting non-perishable food items in support of Food for Others. Items can be donated by dropping off at ActioNet HQ Reception Area.
Food for Others operates four core services. First, emergency food is provided to individuals and families referred by social services organizations. These clients are provided with several days' worth of food thus buying time for other sources of assistance to be arranged or for the crisis to pass. The second service is neighborhood site distributions that occur weeknights at 16 sites in low-income neighborhoods across Fairfax County, Falls Church, and Arlington County. The third service is distribution to community partners serving the elderly, home-bound, homeless, school children, and other populations at risk of hunger. Lastly, Food for Others provides weekend food to children through Power Pack Program. Many children in the area have little or close to nothing to eat between their lunch at school on Friday and the breakfast that is served Monday morning.
Food for Others is experiencing and increased demand for food due to the coronavirus. Every donation helps in the fight against hunger, no matter how small or large.
Most Needed Items:
Fresh fruits (oranges, apples, bananas, tomatoes, avocados, grapes, berries)
Fresh vegetables (cucumbers, celery, peppers, lettuce, eggplant)
Canned chili
Canned tomato products (crushed, peeled, diced, etc.), 4oz – 1 lb
Canned meat (chicken, beef, turkey, or seafood), 2oz – 15oz
Rice, 16oz packages
Spaghetti sauce, 14oz – 1 lb (ideally in cans instead of glass)
Canned fruit (packed in fruit juice instead of syrup) 11oz – 20oz
Dried or canned beans (black, kidney, pinto, etc.)
Pasta
Fruit juice (100% juice) 32oz – 64oz
New or Clean Reusable Grocery Bags 8 ½ x 14 x 15
Donations of other foods can be accepted so long as they aren't expired, are in their original packaging, and sealed. Homemade items cannot be accepted.
Drop off your donations now through May 31st to the ActioNet HQ 10th Floor Reception Area to change the lives of those in our community.
Food for Others Food Drive