Honolulu, HI – June 1, 2016
When working for ActioNet, you will find out very quickly how important it is to be involved in the local community. To round out the month of May, ActioNet team members from the Global Operations Business Unit in Hawaii took the time to donate blood to the Blood Bank of Hawaii (BBH) so that the BBH can provide it to someone else that really needs it.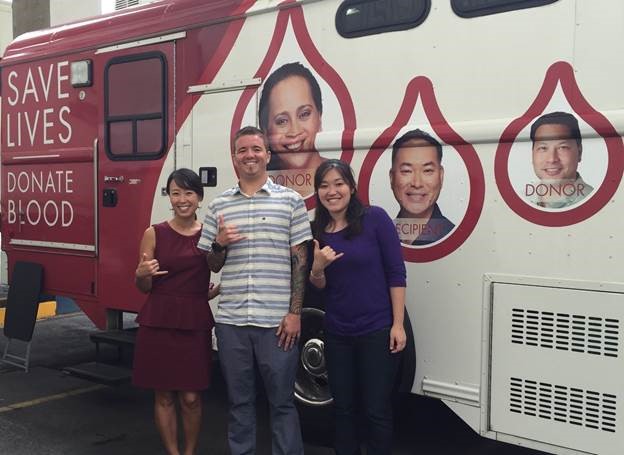 ActioNeters at the BBH Bloodmobile (Sue J., Cody M. and Kerry Y.)
The BBH provides lifesaving blood products to 17 civilian hospitals statewide with two main centers where donations are taken along with two bloodmobiles that travel to many communities across Oahu. The Blood Bank of Hawaii has assisted in saving lives for many years and it is a great honor for us at ActioNet to be able to contribute to such an important organization.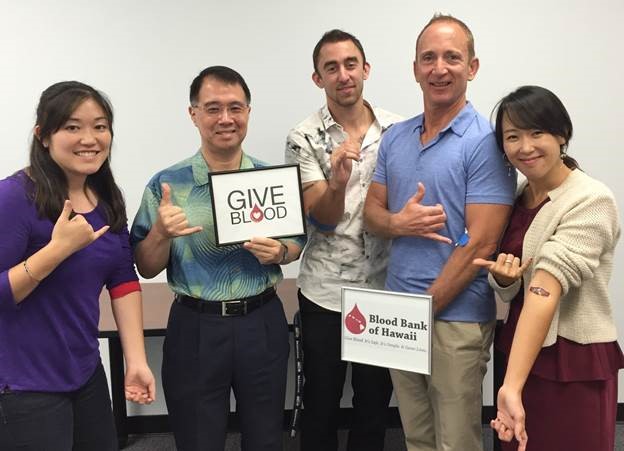 Donating blood is a small gesture compared to the miracles that it can provide. To know more about the Blood Bank of Hawaii or if you are interested in donating blood, you can find more information on how to do so online at www.bbh.org.
"A single pint can save three lives. A single gesture can create a million smiles."
-Quote Author Unknown-
About Blood Bank of Hawaii
Blood Bank of Hawaii is a non-profit organization that provides lifesaving blood products to 17 civilian hospitals statewide. Typical uses for the blood include surgical procedures, treatment of accident victims, ulcers, anemia, delivery for mother and baby, and cancer. Blood is collected at two centers: Dillingham Donor Center and Young Street Donor Center. Blood Bank of Hawaii is also on the move daily, setting up mobile collection sites within companies, organizations and community centers. Two bloodmobiles also travel to numerous communities on Oahu.Blood Bank of Hawaii employs more than 120 qualified professionals, including a medical director, nursing staff and laboratory technologists, who recruit volunteer donors, collect blood, prepare components and distribute blood products. Blood Bank of Hawaii's mission is to provide a safe and adequate supply of blood, blood products and related transfusion services to the patients of our state. Read more at http://www.bbh.org/
About ActioNet, Inc.
ActioNet, Inc., headquartered in Vienna, Virginia, is a CMMI-DEV Level 4 and CMMI-SVC Level 4, ISO 20000, ISO 27001, ISO 9001, HDI-certified, woman-owned IT Solutions Provider with strong qualifications and expertise in Cloud-based Solutions, Cyber Security and Agile Software Engineering. As a Mission-Focused, Client-Centric and Results Driven organization, ActioNet also follows the Project Management Institute (PMI) methodology as well as Information Technology Infrastructure Library (ITIL) standards. ActioNet has outstanding financial performance, as evidenced by our "Exceeds Customer Expectations" and the highest 5A1 Financial Rating from Dun & Bradstreet, a 92 out of 100 rating from Open Ratings, the 2014 National Capital Corporate Growth Award by the Association for Corporate Growth (ACG), and Washington Technology Top 100 2012-2019. ActioNet's human capital leadership is recognized by being designated one of the Best Workplaces for Commuters by the Fairfax County Department of Transportation (FCDOT) 2013-2017 and Washington Post Top Workplaces 2014- 2020. For more information, please visit our web site at www.actionet.com.
Contact: Michelle Barnes, 703-204-0090 Ext. 102, [email protected]