Baltimore, MD – August 28, 2015
ActioNet's CICDIM Contract Project Management team spent August 28th working together to give back to the community in Baltimore. While our daily mission is to serve the CMS Center for Innovation in its pursuit of achieving the Triple Aim better serve Medicare beneficiaries, our PMs took "Work Hard, Play Hard" and spent the morning in service together. In addition to great fun and time together, ActioNet helped to serve 600 lunches and prepped several rooms as part of the Civic Works mission. We had so many PMs volunteer to participate–our teams were divided up among two projects!
Our Daily Bread – Lunch Service
Although our Health Services department works with CMMI to provide IT services to meet their triple aims of reducing cost, improve quality and population health, we rarely get to interact with individuals we ultimately serve. Our ActioNet Health Service's group had the privilege to provide approximately 600 hot meals to the working poor and homeless in Baltimore. It was humbling to spent time with men, women, and children who need a bit of compassion, caring and a hot meal. One member of our team said, "I've never volunteered like this before. It's been an incredible eye-opening experience but also a lot of fun." Our work with ODBEC provided the opportunity to give back to the community, connect with individuals outside of our daily lives and keeps us grounded to the importance of our work in the Health Services department. We hope to expand our PM day of community service to include more employees and we are ecstatic that our team said, "So, when do we get to do this again?"
Our Daily Bread Employment Center aims to empower Baltimore City's homeless men, women, and families to find stable employment and housing by providing job readiness programs, employment referrals and case management services. Additionally, since 1981, ODBEC has served hot meals annually to the working poor and homeless 365 days a year (over a quarter of a million meals annually!). ODBEC's hot meal program is fueled by volunteers who contribute by cooking, setting tables, serving food and proving a warm atmosphere for the city's homeless to eat.
Civic Works – Community Service Restoration
Our ActioNet group helped in the ongoing restoration of Clifton Mansion in Baltimore as part of the Civic Works community service program. We focused on three rooms on the second floor which will be used as meeting rooms and offices. Specific activities – general cleaning, removal of old stairs, prepping walls for painting, and relocating historical furniture and ornamental decorations.
The City of Baltimore purchased Clifton Mansion and its grounds in 1895 from Johns Hopkins University. It has been put to many uses ever since, including a headquarters for the Department of Recreation and Parks, and the clubhouse for the golf course. Although the Clifton Mansion fell into considerable disrepair during its years of transition, the building is in being carefully restored by Civic Works and the Friends of Clifton Mansion. Renovation of the mansion will ensure the future of this important Baltimore landmark and will also enhance the capacity of Civic Works' programs.
Civic Works strengthens Baltimore's communities through education, skills development, and community service. They are a non-profit working in Baltimore communities for over 20 years. Their programs deliver tangible results through a combination of job training, skills development, and community service.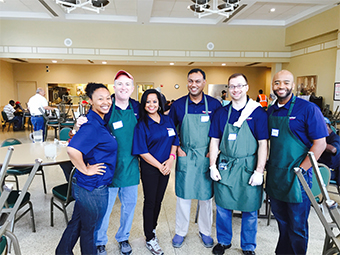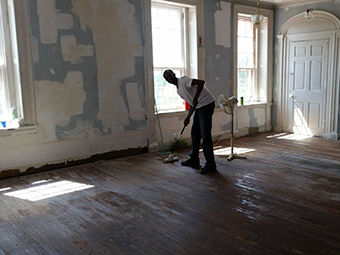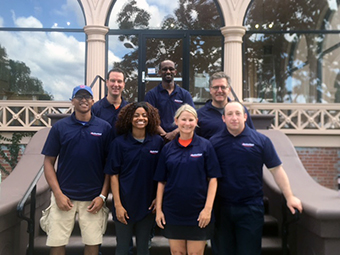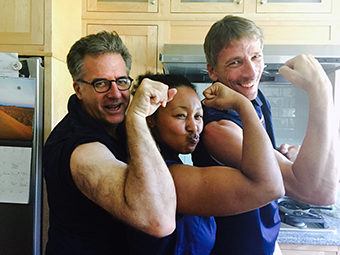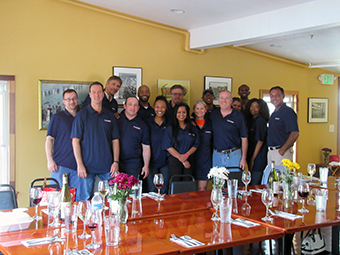 b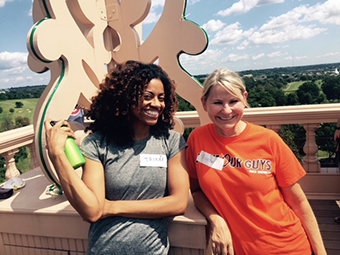 About ActioNet, Inc.
ActioNet, Inc., headquartered in Vienna, Virginia, is a CMMI-DEV Level 4 and CMMI-SVC Level 4, ISO 20000, ISO 27001, ISO 9001, HDI-certified, woman-owned IT Solutions Provider with strong qualifications and expertise in Cloud-based Solutions, Cyber Security and Agile Software Engineering. As a Mission-Focused, Client-Centric and Results Driven organization, ActioNet also follows the Project Management Institute (PMI) methodology as well as Information Technology Infrastructure Library (ITIL) standards. ActioNet has outstanding financial performance, as evidenced by our "Exceeds Customer Expectations" and the highest 5A1 Financial Rating from Dun & Bradstreet, a 92 out of 100 rating from Open Ratings, the 2014 National Capital Corporate Growth Award by the Association for Corporate Growth (ACG), and Washington Technology Top 100 2012-2019. ActioNet's human capital leadership is recognized by being designated one of the Best Workplaces for Commuters by the Fairfax County Department of Transportation (FCDOT) 2013-2017 and Washington Post Top Workplaces 2014- 2020. For more information, please visit our web site at www.actionet.com
Contact: Michelle Barnes, 703-204-0090 Ext. 102, [email protected]