Written by Chris E.
As the recipient of the 2014 ActioNet Service Organization Award, it should come as no surprise that the ActioNet IT Operations team isn't afraid of some friendly competition. Just recently, the IT Operations team took that competitive energy to the driving range, and not just any ordinary driving range!
Topgolf is the premier golf entertainment complex where the competition of sport meets your favorite local hangout. Players can challenge their friends and colleagues to addictive point-scoring golf games that anyone from the hopeful pro golfer to the IT Support Specialist can play year-round. Just picture a 240-yard outfield with dartboard-like targets in the ground. The closer to the center or "bull's-eye" you get and the farther out you hit your microchipped balls, the more points you score.
The IT Operations team scored even bigger with Topgolf's extensive food and beverage buffet that kept us fueled to drive golf balls for hours. We competed in several different styles of games, all of which allowed players to accumulate points in different ways. Whether we were chipping the short shots or swinging for the fences, we had a great time laughing with each other, at each other, and continuously strengthening our already-strong team bond.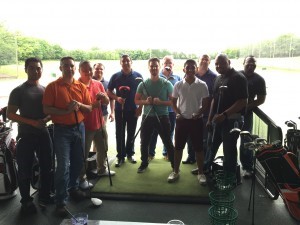 From Left to Right: Michael C., Chris M., David C., Aaron G., Chris E., Joe M., Jerry D., Terrence S., Stavros B., DVon P., Nate A.