Written by Michelle C.
On Wednesday, 24 August, several ActioNeters and spouses gathered at the gym in the Brooke Army Medical Center (BAMC) in San Antonio, Texas for an introductory self-defense class. Fellow ActioNeter George M., who is a Black Belt under GrandMaster Relson Gracie and a Jiu-Jitsu practitioner since 2003, began the session with a brief overview. Gracie Jiu-Jitsu is a martial art that emphasizes the use of leverage and timing over strength and speed. It combines the best elements of Judo, street fighting and grappling and is dependent on technique rather than strength. It is by far the most realistic and effective martial art which can be practiced by people of all ages.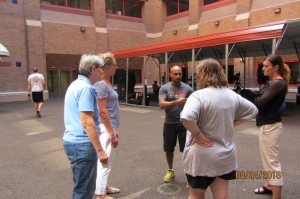 Participants learned how to best remove themselves from a potentially dangerous situation by starting out with a solid base position to give them more leverage. George guided everyone through several types of wrist grabs – one hand on the same side of the body, one hand across the body, one hand over the arm, and two hands on one hand. Everyone practiced multiple times to get comfortable with the moves. It's amazing how effective these techniques were no matter the size or age of the victim.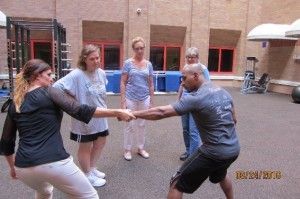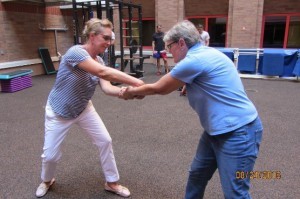 The group advanced to learning how to defend against one hand and two hands to the throat. They tried out skills to remove oneself away from the aggressor which involved using hand blocks, solid body positioning, making a U-turn movement with the body, and twisting the arm up to the ceiling. George demonstrated a method to engage the aggressor which needed padded mats for safety. The ladies in attendance watched as George did a run through in slow motion. It was impressive!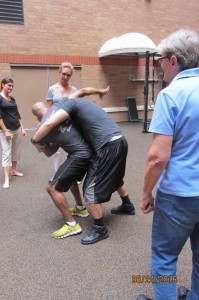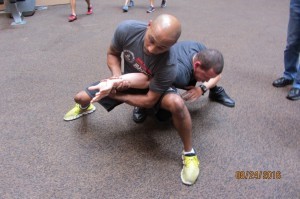 George currently works at BAMC within the Information Management Division (IMD) as a Desktop Applications Project Manager and Systems Engineer. He is part of the Systems Engineering and Integration group which develops, tests, and implements software and systems installations and modifications. He received his Bachelor of Science in Electrical Engineering from Temple University and also has a Master of Science in Management from Colorado Technical University. He is currently seeking his MCSE accreditation and also his Project Management Professional (PMP) certificate from the Project Management Institute.
In addition to his full-time ActioNet position, George teaches Jiu-Jitsu five days a week at Patriot Martial Arts in Universal City, TX. He also volunteers during his lunch every other week to teach self-defense to the Wounded Warriors at the Center for the Intrepid (CFI). George conducts self-defense workshops and boot camps throughout the year in order to provide self-defense to those interested in learning and wanting to empower themselves. His passion for teaching Jiu-Jitsu is evident when he teaches and hopes that through martial arts, he can continue to enrich the lives of his students and everyone else he encounters.