Written by Dan W.
Two weeks ago, I was getting amped about my upcoming trekking adventure in the Everest region of Nepal.  I was excited about the chance to lay my eyes on the highest place on planet earth. Fate had other plans.
My sister and brother-in-law, Prabhas, live in Kathmandu this year, while Prabhas works on a fellowship with Kathmandu Living Labs (KLL), a mapping focused tech incubator in Nepal's capitol city, his hometown. As a data visualization and mapping specialist for ActioNet's contract with the Department of Energy, I was excited to see what Prabhas and his colleagues were up to at KLL on my visit, but after the earthquake hit, I knew that I had to see what I could do to help them out.
I was en route when the earthquake hit, awaiting my connecting flight to Kathmandu. At first no one was sure how severe it was, but it quickly became clear that Nepal was in desperate need of help. The 7.8 magnitude earthquake caught the country completely off-guard, leveling hundreds of thousands of buildings, and claiming over 7,000 lives. Normally earthquakes devastate urban areas primarily, but this quake is unique. The remote and difficult to reach countryside has been ravaged by this quake and is still in dire straits in many places. Kathmandu Living Labs sprang into action within 24 hours of the quake and has been working tirelessly ever since. When I arrived a day later, I got straight to work putting my professional skills to use and helping to visualize casualty and housing damage data for Nepal's National Information Technology Center.
KLL is at the forefront of data processing and distribution in this disaster. We have created a site that allows civilians and relief workers to both log needs and claim tasks around Nepal (quakemap.org). Additionally, we are responsible for making sure government and non-government relief workers have the most up-to-date maps (quakerelief.info) available to them in both printed formats and pre-cached on their mobile devices. In this, we have a large role in directing over 4,000 volunteers around the globe who help to scan fresh satellite imagery for blocked roads, destroyed villages, and possible helicopter landing places. In addition, these volunteers add missing roads, buildings, and landmarks to the global database known as OpenStreetMap, providing invaluable location data for future government, NGO, and civilian use. You can read more about our work in this write up by the New York Times. 
Taking a step back and thinking about how I fit into this, it is truly amazing that things have worked out this way. I never imagined being able to touch down in a developing country the day after a natural disaster and actually play a role in recovery. On top of that, I never imagined being able to use all of the tools and skills from my day job to assist in the task of disaster relief. While my vacation plans may have been drastically altered, I consider it truly a blessing to have been given this strange adventure in happenstance. It is an inspiration to watch those around me work around the clock to serve the nation they call home. I'm grateful to have had a chance to play a (very) small role in the relief effort. 
As Nepal moves from the short term adrenaline rush of quake relief to the months and years of day-by-day recovery work, logistical and technological infrastructure laid down by groups like KLL will be crucial for sustained recovery. If you are interested in learning more about what they're doing, please read their daily situation reports found at KathmanduLivingLabs.org. You can also find a link to donate to their operations at this site. They are a non-profit with a shoestring budget. Most of the 20 or so volunteers working there this week do not receive any kind of salary for the relief work they are doing, so please consider giving generously! 
Thank you all for the support for the nation of Nepal. Slowly, though the work of many faithful Nepalis and international support, we will see a new and stronger Nepal rise. Feel free to reach out to learn more!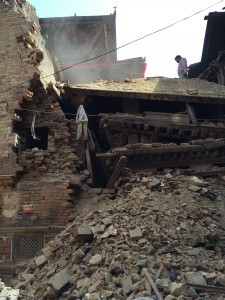 A centuries old collapsed Pagoda style temple in Patan Durban Square, near Kathmandu, Nepal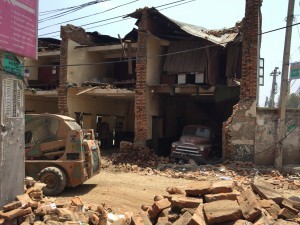 The front of the antique car museum building fell off completely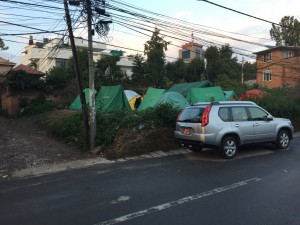 Many temporary settlements of IDPs (Internally Displaced People) cover the open spaces in this country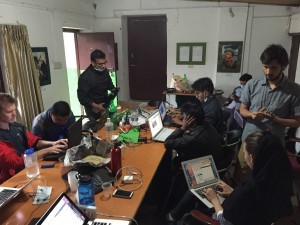 The Situation room at KLL where we all collaboratively work
Photo Credit: Dan W.