Bobby T. (center) smiling after finishing a race for The National Down Syndrome Society
By Bobby T.
I've been involved in sports essentially all my life, mostly playing basketball from third grade through high school. I eventually discovered an appreciation for running as it became difficult to gather friends for local basketball games or tournaments. I enjoyed the challenge of seeing how far I could run and focused on extending distances for fun. In 2012, I accepted a last-minute entry to run my first marathon (our local Marine Corps Marathon [MCM]) when a friend was unable to participate. I had the best time running to countless cheers and passing historical monuments in our nation's capital and became infatuated with running another!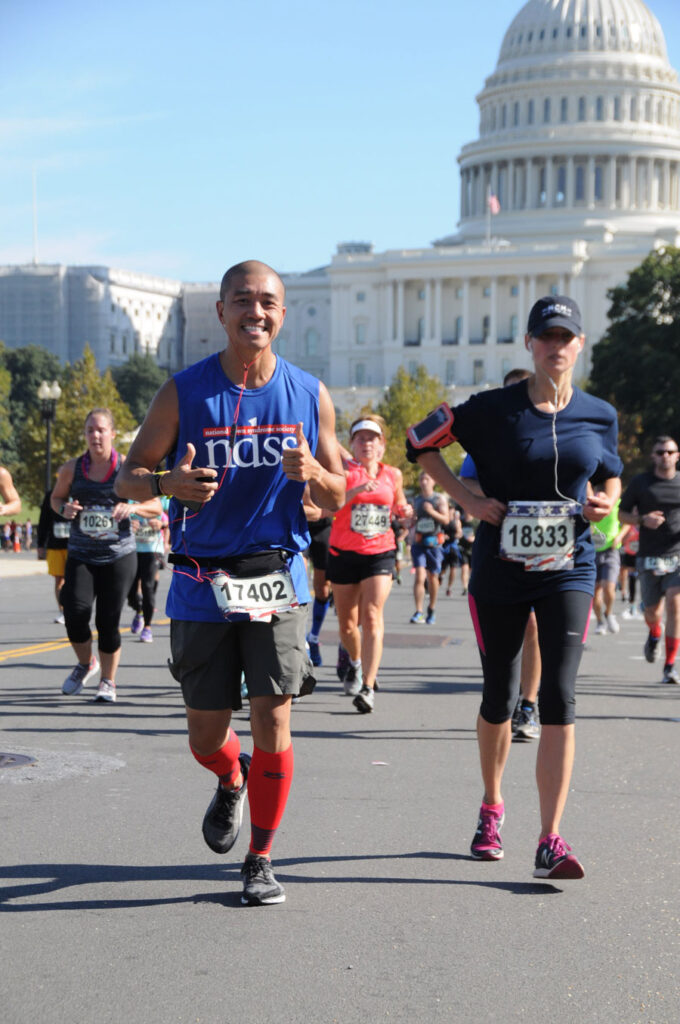 I became involved with The National Down Syndrome Society (NDSS) after my friends delivered a sweet girl born with Down syndrome. It was in January of 2013 that I began to raise awareness through running after hearing the tragic news of a 26-year-old man with Ds who died after three off-duty officers forcibly removed him from a movie theater. I knew some of the struggles and challenges through my friends' experiences but recognizing how she may confront unpredicted, public challenges, was my motivation for wanting to be engaged with NDSS. In March of 2013, I ran my second marathon in memory of the young man who passed and to honor my friends' daughter. That October, I finished my second MCM while raising awareness and funds for NDSS and I've continued doing so through all my marathons and races. In 2016, I was approached by the President of NDSS to help with launching an Athlete Ambassador program and was so ecstatic to participate! We're now a group of over one hundred members and I'm no longer the sole runner during Marine Corps Marathons as we've had over 20 participants in recent years!
The National Down Syndrome Society (NDSS) is the largest nonprofit in the United States dedicated to advocating for all individuals with Down syndrome in the world. The mission of NDSS is to be the leading human rights organization for all individuals with Down syndrome. NDSS provides state of the art, comprehensive programming to all individuals with Down syndrome and their families, which include: The National Advocacy & Policy Center in Washington, DC, the Inclusive Health & Wellness program, which includes the Run for 3.21 and our charity running team, the first of its kind #DSWORKS® Employment program, which is showing the world that people with Down syndrome are ready, willing and ABLE to work as well as the National Buddy Walk® Program. You can find more information about NDSS on their social media channels or by visiting their website at www.ndss.org.
I'm so grateful to have an opportunity to be appointed Captain of Team ActioNet in this year's annual Racing for 3.21 on World Down Syndrome Day and I'm elated that the efforts and funds raised will make positive impacts for the Down syndrome community and allowing those with Down syndrome the increased potential of enhancing their quality of life while being valued members of society.