Written by Carrie B.
Whether in the public or private sectors, organizations are constantly evaluating the technologies, processes, training, and other controls they have in place to mitigate cyber security threats.
As a cyber security professional at ActioNet, I have to stay abreast of the latest solutions to help my customers protect their systems and information.
I recently attended the (ISC)2 CyberSecureGov 2015 conference: From Zero to 60: Advancing the Cyber Workforce.
At this event, I had the opportunity to hear representatives from the public and private sectors talk about their day-to-day cyber security challenges and best practices they have selected to mitigate risk.
For example, one presenter talked about the future of the Federal program on Identity, Credential, and Access Management (FICAM) – guidance regarding standardizing logical and physical access management, and end-to-end management of digital identities.  Another presenter from the United States Cyber Emergency Response Team (US-CERT), talked about collaboration with government partners to respond to and remediate incidents, and the use of open standards and collaboration tools to improve cyber security information sharing.
My primary takeaway from the sessions I attended over the two day period is that all organizations are facing the same types of cyber security challenges. We all have to understand our individual roles and responsibilities as they pertain to cyber security. On top of this, we must share with each other not only successful solutions, but what has not been successful. Knowledge sharing of lessons learned will improve the effectiveness and efficiency of cyber security controls.
Forums such as the (ISC)2 conference provide opportunities not only for individual learning, but on a greater scale, group interaction and networking to foster the necessary collaboration for us all to have more secure organizations and a safer Nation.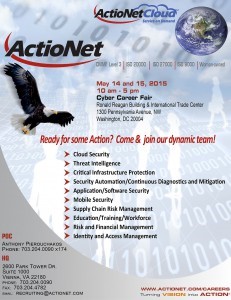 ActioNet's Display at the (ISC)2 CyberSecureGov 2015 Career Fair