ActioNeters Tony (left) and Bobby (right) created giant bubbles to welcome visitors to the Summer Party tent
By Bobby T.
This year's ActioNet Summer Picnic was held at Nationals Park on Saturday, June 15th and took place during a sun filled day followed by a Major League Baseball game between the Washington Nationals and Arizona Diamondbacks. It was a wonderful occasion that allowed us to finally place faces to names, build camaraderie, and celebrate teamwork!
Before reaching the tent, guests were met by the sight of large bubbles that were created by ActioNet volunteers and kids. After arriving, ActioNeters and their guests were greeted by our Founder, Chairman & CEO, Ms. Ashley Chen and President & CAO, Mr. Jeffrey Abish alongside other wonderful ActioNet volunteers. Then it was time to take part in the festivities and fun, including fun music, a tattoo table, and plenty of terrific ActioNet swag.
After playing hard we were all happy to dig into the great picnic staples. Hamburgers, hot dogs, chips and thirst quenching watermelon were all on the buffet for us all to enjoy! While we ate we were treated to a delightful rendition of "Take Me Out to the Ball Game," sung by several ActioNeter kids in attendance. The picnic event ended with a number of raffle drawings, gifting lucky ActioNeters with gift cards for area restaurants before the event concluded.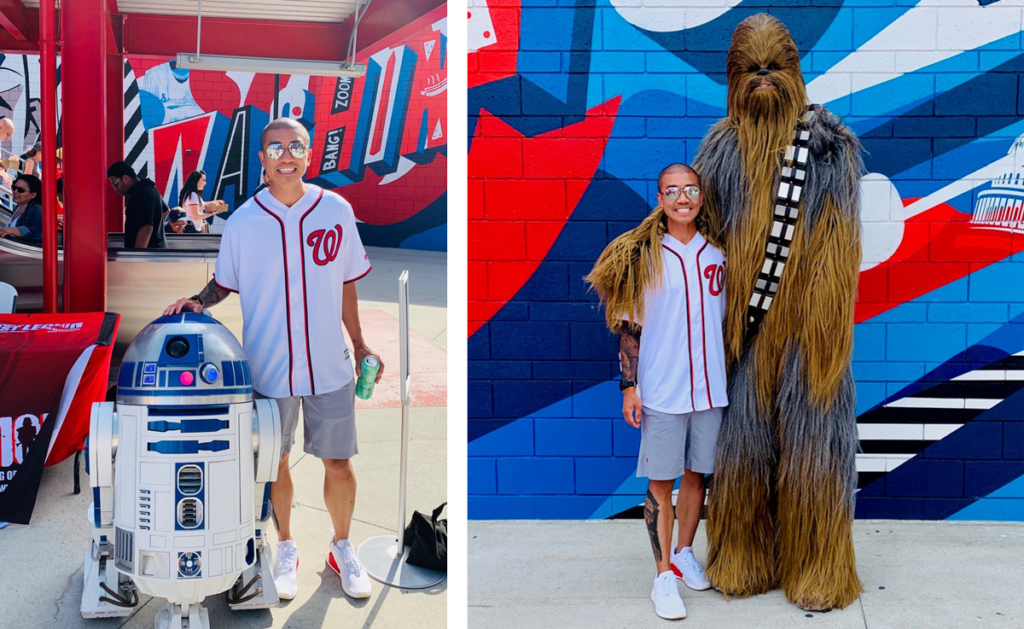 Bobby took photos with Star Wars characters R2-D2 and Chewbacca during the ActioNet HQ Summer Picnic game
The party then moved into Nationals Park and settled into some sweet seats in the outfield to loudly cheer for the home team. Coincidentally, it also happened to be "Star Wars Day" so fans saw themed characters both on the field and throughout the ballpark. Star Wars themed food offerings were available as well… Vaderade anyone?!
Despite the Nationals loss (final score: 10-3), a great time was had by all accompanied by full bellies and plenty of smiles! I am happy to work hard and play hard, and happy to be an ActioNeter!