Written by Chris E.
Lights, Camera, ActioNet! We've all heard that saying before, and it's usually related to our annual corporate music video (if you haven't seen them yet, stop what you're doing and head over to the Corporate Culture page now!). But this time, it was different… The ActioNet company website will be receiving a huge makeover in early Q3, but how will we use it to showcase ActioNeters in Action? Stock images of models in conference rooms are great, but at ActioNet, we take pride in our people. Cue the professional photographer!
Fast forward to the day of the shoot. The photographer and his assistant are on-site and constructing a set that resembles a news studio. All participants gather in the main lobby and look to the Office Manager for guidance. Headshots first, then group shots, then action shots. Perfect. "Head to the Board Room for make-up and return to the lobby for your headshots when you're ready." Stop. Make-up? I double-check my wallet for my man card and make sure that it's firmly locked in my hand before proceeding to the chair. "I'm just going to balance your skin tones," said the make-up artist. "Don't worry – I will remove everything as soon as you're finished." Deal. I return to the main lobby, stand on the T, put my hands in my pockets, and smile at the camera. Quick and simple. On to the action shots.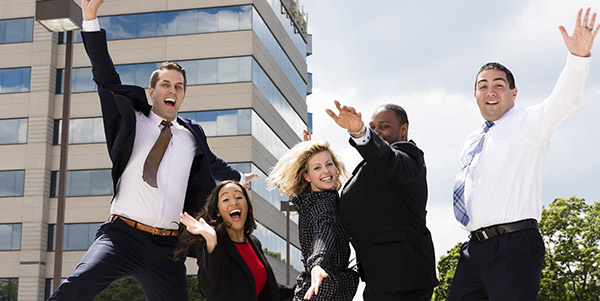 Headshots and group shots are static. The lighting is fixed and the subjects are stationary. Action shots are far more dynamic and require patience, attention to detail, and great amounts of skill. Allow me to note that I don't even consider myself to be an amateur photographer, but I gained a tremendous appreciation for the art of photography over the course of the shoot. The intention of the shoot was to capture ActioNet employees working in ActioNet facilities on ActioNet systems and providing support to ActioNet services. We wanted to include backdrops such as our Corporate Data Center, Innovation Lab, National Service Desk – locations that are meaningful to ActioNet and its customers. The lighting in these types of locations can often range from 'not optimal' to 'downright irritating'. Regardless of the situation, the photographer had the skills and equipment to overcome each challenge and capture the perfect shot. Speaking of tough shots…
ActioNeters don't just work hard, we play hard, too. Check out these behind-the-scenes pictures and videos, including one of yours truly and a few co-workers goofing around on the shoot. This shot wasn't just captured from the top deck of the parking garage – it was also captured from the 10th floor of ActioNet Headquarters!