Written by Michelle C.
On Saturday, 23 July, ActioNeters from the San Antonio, TX area braved the heat at Nelson Wolff Stadium to enjoy a picnic in the park and watch a minor league baseball game.
Over one hundred strong, we gathered under a big tent during the first hour for an all-you-can-eat buffet. The ice cream was definitely a hit! Ray B, our VP of Defense Programs, flew in from New Orleans to meet the San Antonio Team. Next we took our seats along the first base side to watch the San Antonio Missions play the Midland Rockhounds. Butch P, DPBU West Regional Director, called out numbers for our techie raffle prizes between innings.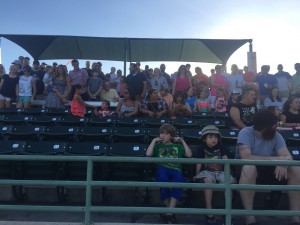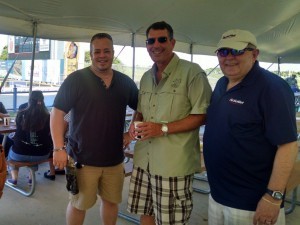 Good sports Yves V., Daryl K., and Keith S. participated in a bicycle race as water was tossed on them by the players in the dugout. What a way to cool down! The Missions fought their way to an exciting victory at the bottom of the 10th inning and we capped off the evening with a fireworks show.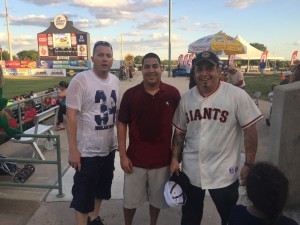 Program Managers John G., Earl T., and Yves V. were really pleased that so many of their dedicated and accomplished employees could join together for a nice experience