by Reuben M.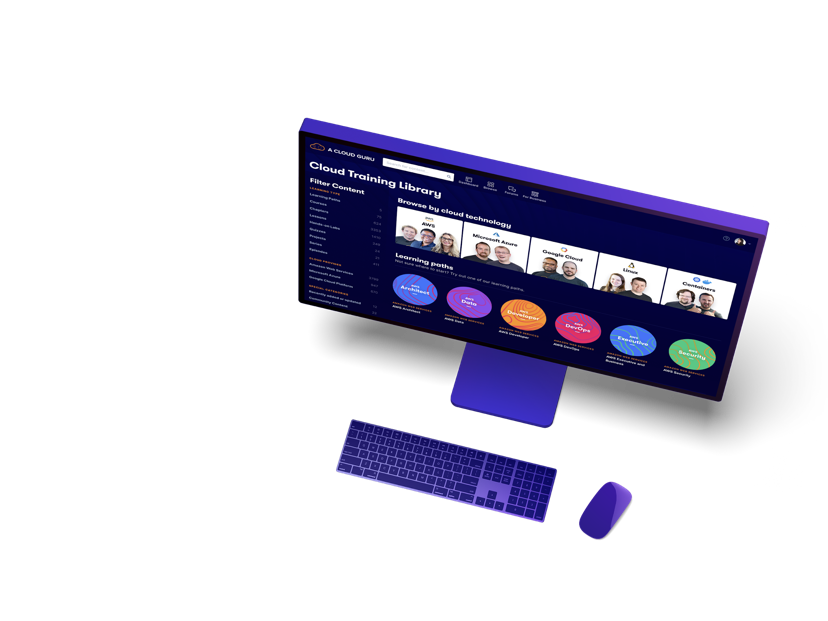 Cloud technologies have skyrocketed in importance during the pandemic, globally transforming the way work is accomplished. Government and industry sectors alike had to rapidly and agilely pivot to provide alternatives for accomplishing their strategic goals via remote working technologies and thus ramped up their investments in mobility, collaboration, and other cloud-related infrastructures. In fact, a recent Gartner survey showed that nearly 70% of organizations plan to increase their current usage of and overall spend on cloud services due to disruptions in their businesses from COVID-19.
As a result, the need for cloud computing expertise has never been more vital for technology professionals. LinkedIn Learning's 2020 Workplace Learning Report analyzed data from more than 660 million professionals and 20 million jobs to identify the highest demand skills in the workforce. Cloud computing came in at #2, just below blockchain and ahead of artificial intelligence (AI). And cloud services are rapidly evolving, thus requiring employees stay up to speed on the latest capabilities. In 2019 alone, Amazon Web Services (AWS), Microsoft Azure, and Google Cloud Platform (GCP) released over 3,500 new services and functionalities – nearly 10 per day!
At ActioNet, we strive to create a culture of learning and keep pace with innovation and are thus investing in professional skills development and unique upskilling opportunities for our employees. This not only helps build a more resilient and agile workforce, but also increases employee retention, attracts higher quality talent, and increases overall efficiency across the company. Additionally, our recent Employee Satisfaction Survey indicated that our employees agree and are eager to explore opportunities to continue to enhance their career with training in vital and emerging technologies.
In response, we've partnered with industry cloud-training leader A Cloud Guru (ACG) to provide our employees an ActioNet-branded training portal containing regularly updated content on the leading cloud-related technologies. More than 2 million people have learned cloud skills with ACG. In fact, the ACG model is being successfully utilized by over 14,000 companies worldwide for cloud skills development.
ActioNet President and CAO Jeffrey Abish recognizes the unique opportunity ACG represents for our employees. "The A Cloud Guru platform is a game changer for ActioNet employees to develop cutting edge cloud capabilities in a fun and interactive environment leveraged by leading companies around the world. This ACG opportunity reenforces our continued commitment to provide our employees access to world-class training opportunities for a more rewarding ActioNet career experience."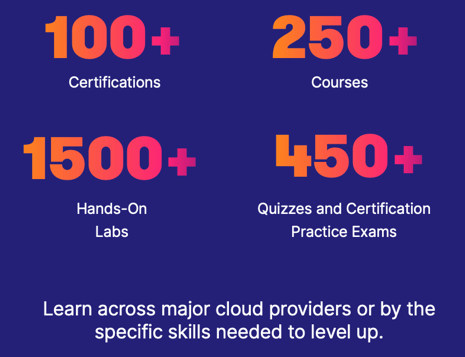 Through ACG, ActioNet employees have access to an extensive and comprehensive suite of cloud training both by Platform (AWS, Azure, GCP, Kubernetes, Linux) and by Specialty (Security, DevOps, Big Data (AI/ML), Containers, Programming, and more). The ACG model ensures focused learning is tailored to the employee's specific training goals through a number of unique features including ACG's custom Skills Assessment, real-time Cloud Sandboxes, and real-world Hands-On Labs.
Skills Assessment: It's not uncommon that I get asked, "Where do I start?" Employees at times find their current roles and skills don't match up with modern skills required for success in the cloud. ACG recognized that companies need a reliable way to inventory skills across teams and know where to begin upskilling and thus developed the Skills Assessment to remove the guesswork so employees can build skills confidently through a structured learning path tailored to an individual's specific training needs and capabilities. The table below summarizes the Skills Assessment process.
ACG Skills Assessments
Assess cloud readiness across multiple competencies
Measure baseline skills on a scale from novice to guru
Identify gaps and understand where to start upskilling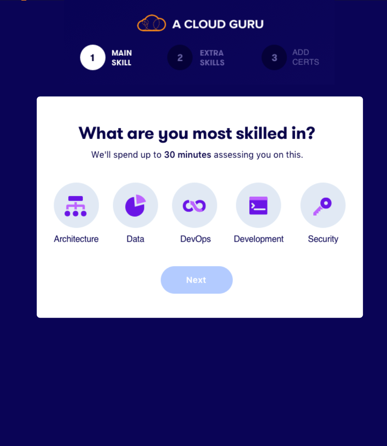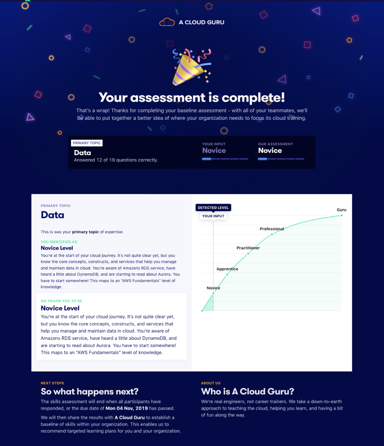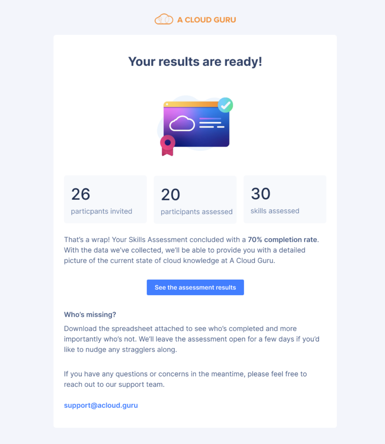 Cloud Sandboxes: Often, training courses give you scenarios to work through that you wish you could gameplay in some type of virtual space. With this in mind, ACG introduced Cloud Sandboxes which provide learners access to real (not simulated) AWS, Google Cloud, and Microsoft Azure environments. You can rapidly spin up pre-configured, auto-provisioned cloud servers running different distributions and tools as well as instantly launch an in-browser terminal and SSH into any instance on any provider, all while behind your firewall and complying with security best practices. Cloud Playground pairs A Cloud Guru's extensive cloud training content with the perfect practice environment, so you can learn by doing.
Hands-On Labs: Extending the "learn by doing" mindset, ACG provides more than 1,500 guided labs based on real world scenarios in a secure, risk-free environment. Students can learn new skills or refresh existing ones on demand in as little as 15 minutes, without having to work your way through an entire course. The ACG content library also includes thousands of Hands-On Labs integrated directly with courses, so you can get your hands cloudy in real AWS, Azure, and GCP environments.
The initial A Cloud Guru launch in Q1 of this year already has ActioNet employees engaged across the company and within all lines of business. Team Coordinators actively manage and drive engagement across the company and we are already seeing a ramp up in cloud certifications and overall knowledge. We're excited to see the transformation in employee cloud skills this year as we double down on this vital investment and deliver personalized learning at scale.