ActioNet collects food for Food for Others Food Drive
By Michelle B.
We are Stronger Together and together we can help keep food banks and communities strong. The pandemic has reversed progress towards ending hunger in our communities, while record unemployment continues and families struggle to pay bills. Statistics show that 4 in 10 people are visiting food banks seeking help for the first time. This crisis is far from over, as the need for food continues.
ActioNet has answered the call and will be collecting non-perishable food items in support of Food for Others. Items can be donated by dropping off at ActioNet HQ Reception Area. Food for Others operates four core services. First, emergency food is provided to individuals and families referred by social services organizations. These clients are provided with several days' worth of food thus buying time for other sources of assistance to be arranged or for the crisis to pass. The second service is neighborhood site distributions that occur weeknights at 16 sites in low-income neighborhoods across Fairfax County, Falls Church, and Arlington County. The third service is distribution to community partners serving the elderly, home-bound, homeless, school children, and other populations at risk of hunger. Lastly, Food for Others provides weekend food to children through Power Pack Program. Many children in the area have little or close to nothing to eat between their lunch at school on Friday and the breakfast that is served Monday morning.
Most Needed Items:
Canned meat (chicken, beef, tuna)
Canned tomato products
Spaghetti sauce (avoid glass containers)
Chef Boyardee
Rice
Mac & Cheese
Chili or beef stew
Peanut Butter & Jelly
100% fruit juice
Every donation helps in the fight against hunger, no matter how small or large. Your generosity helps ensure food is available in the communities for those that are impacted by hunger. Donate now through May 31st in the ActioNet HQ Reception Area.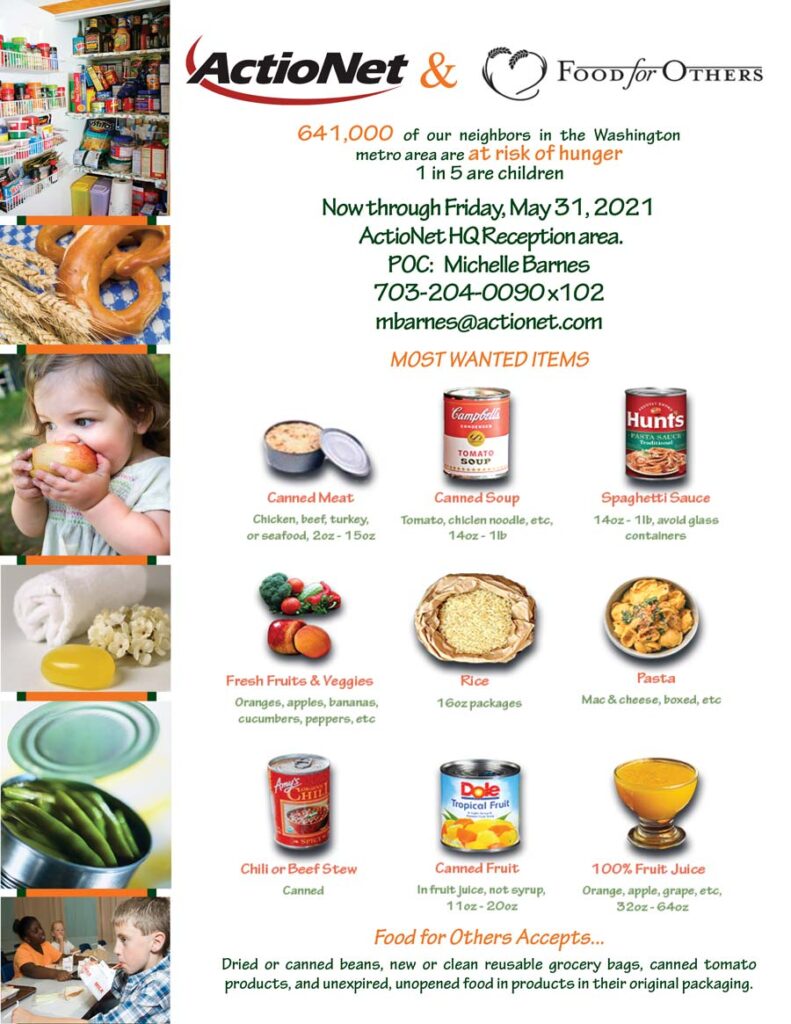 Food for Others Food Drive