Written by  Harry L.
I recently came back from Microsoft's Ignite conference in Atlanta a big winner. I was able to attend as a result of ActioNet's commitment to training/learning through the use of our education benefit. While at the conference, I won a 2016 Harley Davison Forty Eight from Adaptiva a vendor represented at the conference's Expo. You can see me here with the Harley: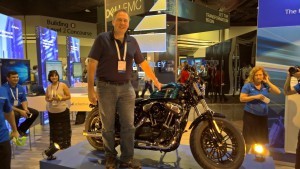 Believe me, I was far more surprised that anyone there. You can see that here in Adaptiva's video of the drawing ( https://vimeo.com/184915407) where I looked stunned and I was. Microsoft's Ignite had over 23,000 attendees this year and several thousand of them were there for drawing.
Even though I came away with a brand new Harley, I also came away as a winner in what I was able to gain in knowledge and understanding of Microsoft products at the event. As an ActioNet contractor, I work as the SharePoint Architect for the ActioNet National Security Business Unit and our customer is about to move to the cloud in a big way. I'm excited to be a part of this move and attending the conference and its great variety of sessions on the Microsoft cloud (O365 and Azure) and related technologies gave me a wonderful insight on the capabilities and possibilities of these platforms.
Moreover, I was excited to learn how I can leverage these capabilities to the benefit of my customer while using recommended best practices and industry standards. It is a big win to bring this information back and infuse our ActioNet SharePoint team with the excitement of how we can better support our customer and give them greater value through the leveraging of new and advanced technologies. We live in a time where you must continue to learn and grown in our knowledge and skills to keep up with the on-going pace of change. Going to Ignite helps me to do just that. I not only won a Harley, but I won knowledge and insight which in my view is the bigger gain.