By Patricia C.
Customer service is the lifeblood of any company. The details that make the difference between great, average, and poor customer service can make or break a business. Poor customer experiences can mean loss of clients or projects. Alternatively, excellent customer service means smooth processes, great customer reviews, and repeat customers.
At ActioNet, customer service is at the heart of all we do. We ensure that clients receive the same experience no matter if they work with our dev teams, our accountants, or front desk staff. To keep consistent service across our organization, we in the Quality Team work to implement quality assurance across the company.
Our quality assurance initiatives involve a consistent way of performing our work across projects and customers. They allow our customers to expect a consistently high level of service and delivery, no matter what manager or team they are working with. To continuously maintain and improve our quality policies, the Quality Team has several responsibilities.
Maintaining Project Management Policies and Procedures
ActioNet prides itself in maintaining excellent corporate standards for all projects and service offerings. The Quality Team is responsible for keeping record of and updating these policies and procedures as organizational best practices evolve. We ensure all stakeholders are aware of procedure changes and upload the latest documentation to our libraries for easy access.
Compliance through External and Internal Assessments
Assessments act as validation of project and department conformance to corporate and external standards. Standards can come from multiple sources and can be both internal and external.
Internal standards come from executive management guidelines and directives. They determine the best practices for our business units, projects, and continuous improvement efforts.
External standards come from outside organizations and are often specific standards that require compliance to achieve certification. Such examples include our CMMI Maturity Level 4 certifications in both development and service. The Quality Team is responsible for maintenance compliance to these standards and facilitating audits for re-certification.
Conducting Customer Satisfaction Surveys
Quality cannot just come from within. Feedback is essential to review our efforts and determine areas of improvement. To that end, the Quality Team sends customer satisfaction surveys to our clients twice a year to get their insight on our project performance. Afterward we are also responsible for analyzing the data and pinpoint ways we can improve.
Maintaining the Process Asset Library
To make sure everyone is aware of our policies and procedures we maintain a Process Asset Library (PAL). Employees can pull from these assets at any time to review and use. The documents and templates are always up-to-date, and assets are updated annually.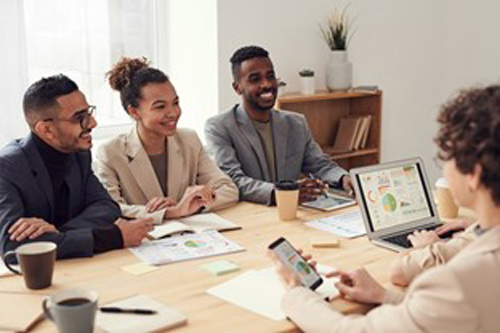 The PAL allows teams to pull from procedures and templates anytime, streamlining project execution
Continuous Improvement Program
Sometimes employees will come up with improvements to current policies, procedures, and documentation. At ActioNet we welcome the feedback and allow all employees to submit Process Enhancement Requests (PERs). In Quality it is our job to review these requests and discuss the possible changes with stakeholders. We manage and track the PERs and other corporate improvement initiatives to closure.
ActioNet Quality
The bottom line is ActioNet exists to serve our clients. We are never complacent in our status, and always ask how we can further improve our customer experience. Everyone in the company ultimately supports this goal.
Everything we do impacts our reputation with our clients and our future success. The Quality Program is intended to ensure we have a consistent positive reputation in the marketplace, through credentials and consistent, excellent service to our customers. Learn more about our quality policies and initiatives in our video below: