Scene from the charming Oxford MD in Eastern Shore
By Crystal C, Michelle N, Eric D
On June 21, 2018 ActioNet's Science and Research Business Unit (SRBU) Director, Crystal and Program Manager, Michelle visited ActioNeter & System Administrator Eric, in the Oxford, MD NOAA facility.  Oxford is a small quaint town that sits off the shores of the Chesapeake Bay on the eastern shore of Maryland.  The Oxford Lab was established in 1960 primarily to investigate oyster diseases that struck the region in the late 1950s. The facility became the Cooperative Oxford Laboratory in 1987 through an agreement between the Maryland Department of Natural Resources (DNR) and the National Ocean Service (NOS) to share the facility and cooperate in research. National Centers for Coastal Ocean Science (NCCOS) operates the 16,000 square-foot main laboratory, with onsite partners, including: NOAA's Chesapeake Bay Office, the Maryland Department of Natural Resources, and the U.S. Coast Guard.   This lab sits on the Tred Avon River with its own pier and boat dock.  It's simply beautiful!
The lab has a 55-foot research vessel used for regional research that we were able to board and meet the spunky Captain.  Captain Mike Simenson is a Maryland DNR employee who takes care of the converted Coast Guard vessel.  Captain Mike also provides boater safety classes for MDDNR and NOAA staff. Check out the vessel and Captain Mike (shown in white).
System Administrator, Eric has successfully supported this office for 13 years.  He performs a myriad of supporting IT activities like managing laptops, workstations and servers, security badge access, VTC conference rooms, NCCOS BMC Track-it administration which is the help desk ticketing system, A&A activities, and various other support tools used throughout the NOS Enterprise. However, in addition to the common IT activities Eric also supports equipment and services relating to the research facility at Oxford Lab.  For example, Eric is the first line of support for Geothermal & Seawater monitoring systems.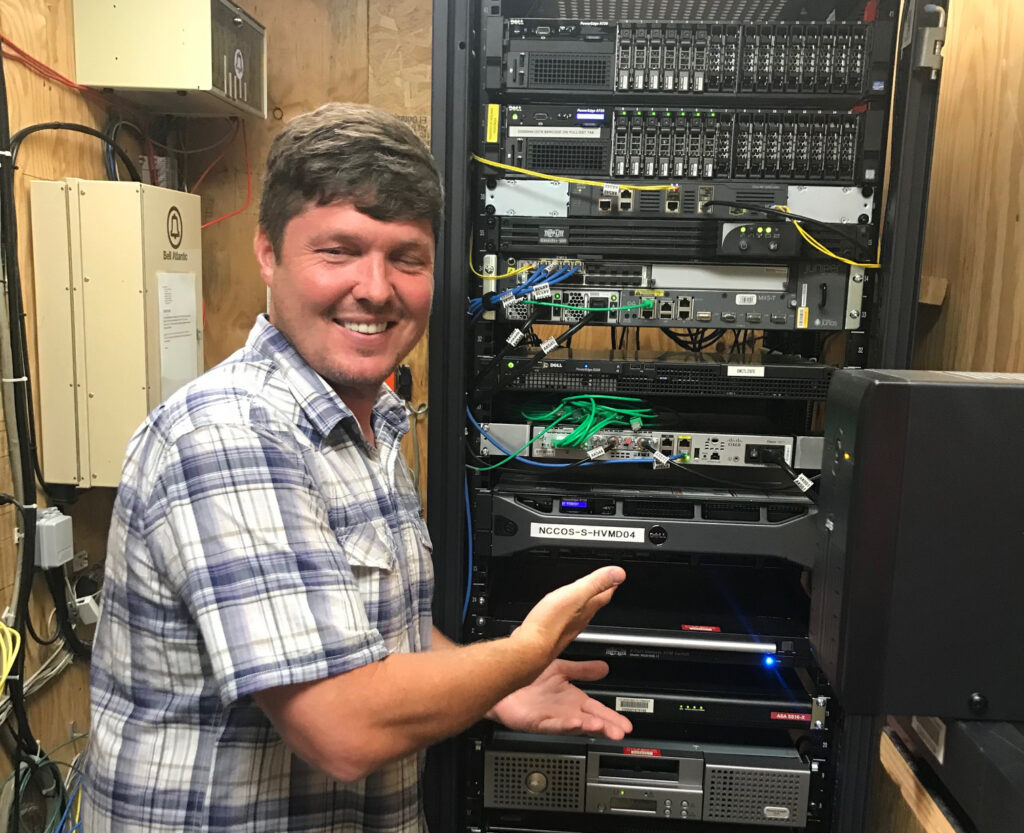 Long time ActioNeter Eric D providing IT support
Something special about this location is the Marine Mammal and Sea Turtle Stranding Program (MDDNR). This program coordinates with the National Aquarium to respond to dead stranding's of marine mammals that wash up on the shores of Chesapeake Bay and Maryland coastal beaches. Some species of marine mammals that are found include: sea turtles, dolphins, seals, whales.
We appreciate the diverse work Eric and the team is doing for the NOAA National Ocean Service.