By Jeff A.
ActioNet was recently named a Top Workplace for the tenth year in a row in the Technology Area. During the submission process, we were asked about the most important aspects of our Corporate Culture. Supporting our Customers, Employees, Each Other and our Communities is central to who we are as an organization. In the past few years, we have collectively dealt with the challenges of COVID and the impact it has had on the world, as well as natural- and man-made disasters. During times like this, we all must band together and help those in need.
Hawaii Wildfires Relief Fund
ActioNet sponsored a fund drive in conjunction with the American Red Cross through September 30, 2023. The goal was $5,000 in total donations, including a 100% ActioNet corporate matching donation. We exceeded our goal, raising nearly $8,000!
The wildfires that have raged across the islands of Hawaii are the deadliest the U.S. has seen in the last century. An estimated 2,200 homes and businesses have been destroyed, and thousands of residents have been displaced.
Over 100 people have lost their lives, and may are still missing, and many more are in hospitals for their injuries. Destructive wildfires have spread across Hawaii, flooding has swept through parts of Alaska and dangerous storms have struck the Northeast. Red Cross disaster workers are responding to these increasingly devastating emergencies and was only possible with your generous support.
Thanks to our ActioNeters for making a difference!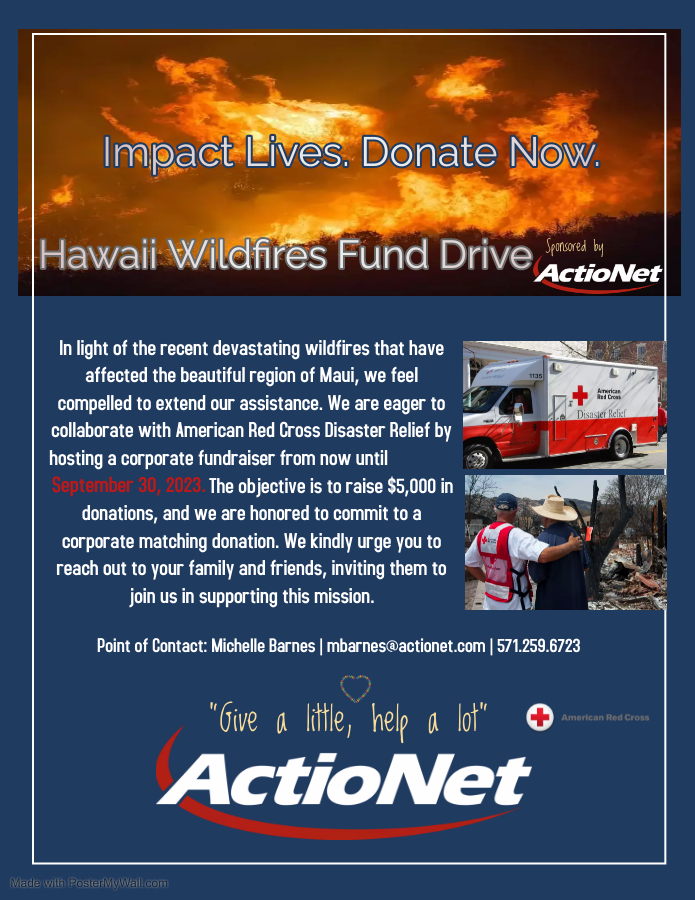 Food and Friends
ActioNeters from the Science & Research Business Unit (SRBU) helped at Washington, DC Food & Friends. Food & Friends is a community-based organization dedicated to improving the lives and health of people with limited ability to nourish themselves by preparing and delivering specialized meals and groceries, providing nutritional counseling, and cultivating a strong sense of community.
ActioNeters and their families prepared and delivered specially tailored meals to satisfy the nutritional needs of community members suffering from HIV/AIDS, cancer, and other life-threatening diseases. We sorted, prepared, and packaged meals and goods in the facility kitchen.
Each day, around 3,800 meals are served to customers. It was a great moment for the ActioNet Family to unite and undertake community service.
Visit the Food & Friends website for more information and to get involved.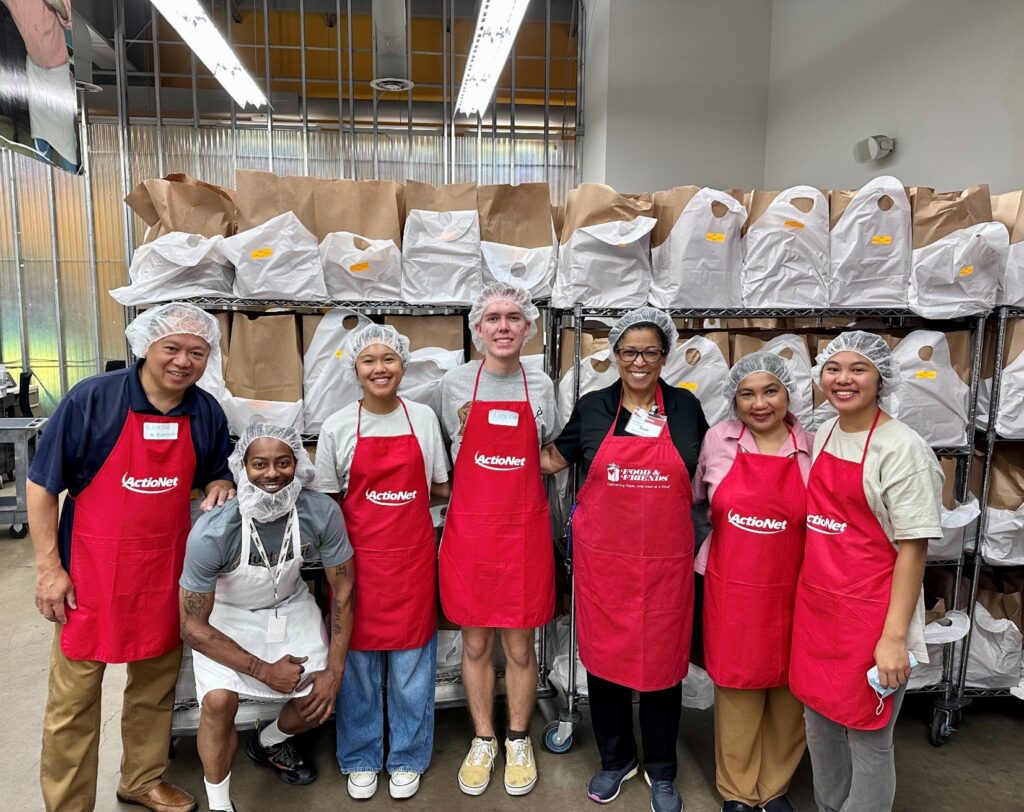 Breast Cancer Awareness Month
Breast Cancer Awareness Month, held in October every year, aims to promote screening and prevention of the disease, which affects one in eight women in the United States every year and 2.3 million women worldwide. Known best for its pink theme color, the month features a number of campaigns and programs — conducted by groups ranging from breast cancer advocacy organizations to local community organizations to major retailers — aimed at:
Supporting people diagnosed with breast cancer, including metastatic breast cancer
Educating people about breast cancer risk factors
Stressing the importance of regular screening, starting at age 40
Fundraising for breast cancer research
ActioNet hosted its Annual "Wear Pink" Day on October 18th in support of Breast Cancer Awareness Month.
These are three of many ongoing initiatives we have at ActioNet. There is light at the end of the tunnel if we shine our collective light and love toward our communities and those in need. Thanks to all who have provided kindness and support.