Written by David O.
Teamwork makes the dream work in the office and on the bike!
In my entire IT career I would never have imagined working for a company that matched so well with my life as a competitive bike racer.  ActioNet is a great company to work for with many opportunities for training and advancement as well as a true spirit of teamwork.  I work with a dedicated and supportive team. The trust I am afforded by management that I am good at what I do really encourages me to go the extra mile for our customers.  The relationships that I have been able to build over the years is a testament to ActioNet's culture of inclusiveness, diversity, and support.
All these things are vital whether you're building an IT support team or a bicycle racing team. I have been with ActioNet since the beginning of the DOT contract, and the similarities to my racing team, Artemis Racing, are striking.  Just as ActioNet is a woman-owned business, Artemis Racing was founded by women with a focus on teamwork, support, and inclusion. We are the most diverse team in our region which spans Maryland, DC, Northern Virginia, and Delaware.  ActioNet has been extremely supportive of my racing. Even going so far as to feature me at the DOT art show for the past few years.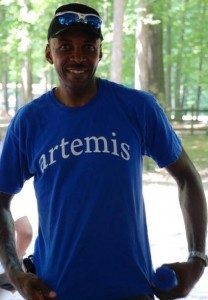 I began riding as a means of transportation and caught the eye of a racer who encouraged me to give it a try.  I never set to break down any barriers, but I soon realized how monotone bicycle racing was. Over 30 year later, and having since earned the nickname of "SuperDave," I've since won over 400 races. I even met my wife through cycling. She was a recreational tour rider. Now she's also an accomplished racer. I am truly proud to look back and see the doors that I have opened all because one man opened the door for me.  I have since committed myself to not only be the best racer and sportsman that I can be but to also give support, encouragement, and instruction to new riders/racers.  In addition to maintaining our own cultural and ethnic diversity over the past 17 years, we have also spawned the emergence of several other diverse teams and one other all-women team.