Written by Kerry Y.
This week, the Global Operations business unit represented ActioNet at the 9th Annual AFCEA Tokyo TechNet 2015 at the New Sanno in Tokyo, Japan. Local ActioNeters in Tokyo stopped by our booth to check out the latest happenings with the company. The theme for TechNet Tokyo this year was "Convergence."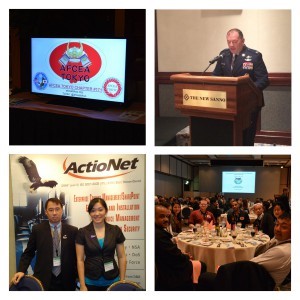 The Armed Forces Communications and Electronics Association (AFCEA) is one of the world's premier Communications, Electronics, and Information Technology Professional Societies. With over 33,000 members on four continents, AFCEA is comprised of political, military, civil service and industry leaders.
AFCEA Tokyo aims to engage across audiences in the US Defense community as well as those of the local community in Japan. TechNet brings a variety of international and local voices from across academia, industry, and government. The event also offers extensive opportunities through training sessions, keynote speakers, and panel sessions – as well as highlights the tactical, technical, and strategic challenges that Japan, the United States, and their allies and partners face in national and regional security.