By Kate R.
As technology advances and ActioNet and customer workplace methods and strategies improve, there comes a need for us to align with these changes in terms of knowledge, skills, values, and abilities. One of the best ways to enhance your existing skill set or learn new skills, is to take advantage of ActioNet's generous employee Educational Assistance Program.
This benefit is provided to full-time permanent employees and is available after three (3) months of continuous service. It's available each calendar year and can be applied towards training to gain technical certifications or licenses, and toward college courses that apply to the support work you provide on behalf of ActioNet to our valued clients. Often, certifications are required for you to work on certain ActioNet contracts. Your supervisor can assist you in determining appropriate training you may need to qualify for inclusion in new work that ActioNet wins.
Personally, I gain job satisfaction and motivation with gaining new knowledge and skills. I feel confident that I can provide the expertise that our clients are looking for to solve complex technical problems they face, or when they want to implement new technologies, methods, or processes. There have been many instances over the years where my advice to clients based on the training and certifications I've obtained through ActioNet have directly benefited my clients and their important goals and objectives. This is extremely gratifying to help clients solve problems and no less important in that we are viewed by our clients as subject matter experts. Keeping ourselves trained and skilled with current and emerging technologies, processes, and methodologies ensures that we stay competitive, but more importantly, it ensures we remain a trusted advisor to our customers.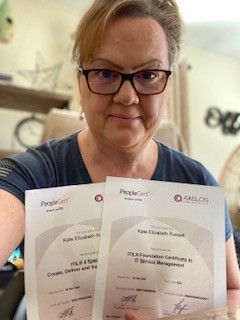 Regardless of the reason, ActioNet's Educational Assistance Program helps you to improve your knowledge and skills to do your job effectively. Not only that, training and certification can also help prepare you for moving into higher level roles and to take on more responsibility at ActioNet. It's easy to request training…just navigate to our ActioNet Intranet home page at actionet.sharepoint.com and scroll down to "Training". Instructions on how to request training and the needed links to the training request form are there!
ActioNet is committed to our customers and each other's success…and by offering this long standing and valuable benefit to ActioNeters, ActioNet shows its commitment to you and to our valued clients.