By Monica O.
On January 14, 2021, our ActioNet Recruiting Team had the pleasure of attending and participating in a virtual job fair, hosted by USAG Rheinland-Pfalz – Army Community Service, the Army's #1 garrison in Europe. This garrison location in Germany houses the largest presence of American Armed Forces outside of the United States, with approximately 40,000 military members and their families. The transition center at USAG Rheinland-Pfalz performs separation and post-retirement services for the Soldiers, as part of The Soldier for Life – Transition Assistance Program (SFL-TAP). By extension of these services, spouses of this military family are also assisted with career planning, job searching, resume preparation help, interview coaching, and other career-related assistance.
The event held on January 14th was one-of-a-kind and the first of many more to be hosted in a virtual format by the program. As such, ActioNet had the opportunity to be one of the first employers selected to participate in the beta testing of this new initiative with the Transition Center. The event was designed to mimic a real physical face-to-face job fair, where manning of a "Virtual Employer Booth" in the form of a video chat conference room was required. Our Recruiting Team served as moderators and facilitators of the interactions as job seekers entered our "virtual booth" in the same manner as if they would at a face-to-face event. The event went from 6am-9am EST. During this time, our Recruiters had the privilege of virtually meeting face-to-face and speaking in depth with more than 20 members and their spouses. Their service backgrounds encompassed a variety of skill sets, with interest in both CONUS (Continental United States) and OCONUS (Outside Continental United States) opportunities.
As a result of these conversations, members were able to learn more about ActioNet, our mission and the services we offer. In turn, our Recruiters were able to learn about the career aspirations of these members and important helpful career-planning tips. This was definitely more than your ordinary job fair, producing real conversations! In part, some of the comments shared from the service members and their spouses were, 'ActioNet feels like a great company to work for…', 'the pointers you've provided are very insightful',…'I am now able to clearly see the options available to begin my civilian career path'…and so on. The hope of our ActioNet Recruiting Team is that the time we spent together serves as a springboard for continued dialogue with these military members and their families, while spreading the word of how ActioNet has earned its designation as a Top Workplace year after year. This was truly a win-win event!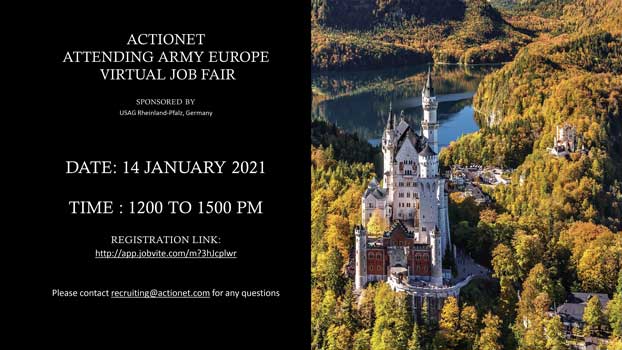 The flyer from the recent Rheinland-Pfalz career fair