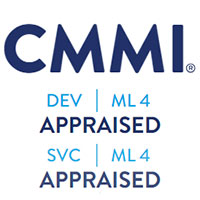 Vienna, VA
ActioNet, Inc. announced that it has been appraised at Maturity Level 4 of ISACA's Capability Maturity Model Integration (CMMI®) V2.0 for both Development (CMMI-DEV) and Services (CMMI-SVC) with Supplier Agreement Management (SAM). ActioNet is one of only two organizations in the world appraised at Maturity Level 4 V2.0 for both the DEV and SVC models with SAM. For the Level 4 appraisal, ActioNet demonstrated the ability to leverage a quantitative approach to analyze service and project performance to identify and implement process improvements to meet and exceed customers' needs and expectations. The appraisal was performed by Maverick Quality Advisory Services (MQAS).
As our Customers' Most Trusted Innogrator®, ActioNet is dedicated to the development of Innovative Solutions and Service Delivery Excellence."Through an integrated product suite, CMMI V2.0 aligns business goals directly with operations and capabilities to drive measurable improved performance in terms of time, quality, budget, customer satisfaction and other key drivers. The promise to achieve and sustain Service Delivery Excellence is one of ActioNet's Core Values," said Jeffrey D. Abish, President & CAO.
About ISACA
For more than 50 years, ISACA® (www.isaca.org) has advanced the best talent, expertise and learning in technology. ISACA equips individuals with knowledge, credentials, education and community to progress their careers and transform their organizations, and enables enterprises to train and build quality teams. ISACA is a global professional association and learning organization that leverages the expertise of its more than 150,000 members who work in information security, governance, assurance, risk and privacy to drive innovation through technology. It has a presence in 188 countries, including more than 220 chapters worldwide. In 2020, ISACA launched One In Tech, a philanthropic foundation that supports IT education and career pathways for under-resourced, under-represented populations.
About ActioNet, Inc.
ActioNet, Inc., headquartered in Vienna, Virginia, is a CMMI®-DEV Level 4, CMMI®-SVC Level 4, ISO 20000, ISO 27001, ISO 9001, HDI-certified, Woman-Owned IT Engineering Service Firm with strong qualifications and expertise in Cloud-based Solutions, Cyber Security and Agile Software Engineering. As a Mission-Focused, Client-Centric and Results-Driven organization, ActioNet also follows the Project Management Institute (PMI) methodology as well as Information Technology Infrastructure Library (ITIL) standards. ActioNet's Human Capital Leadership is recognized by being designated one of the Top Workplaces for 9 years in a row since 2014. For more information, please visit our web site at www.actionet.com.
Contact:
Michelle Barnes, 703-204-0090 Ext. 102, [email protected]