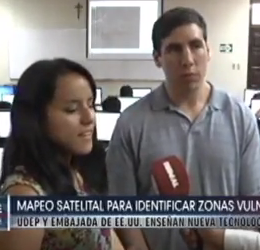 Vienna, VA – February 17, 2016
ActioNet is helping solve real-world humanitarian catastrophes.  Through MapGive, Thomas Gertin & Erika Nunez of ActioNet's DoS HIU Team worked with volunteers and donate their time to projects that can impact humanitarian and development efforts around the world.  MapGive is a campaign dedicated to teaching the importance of creating open map data, giving people the skills to map, and connecting them with mapping tasks through a user-friendly interface.
You can help too. Map any place in the world even if you've never been there.  What if there were more online MapGivers?  Together, ActioNet employees are making a difference.  Become part of a movement to make a difference today.  Go to http://mapgive.state.gov/ for more information or contact [email protected] to find out how you can get involved.
Tom Gertin & Erika Nunez of ActioNet on Peru national news: https://www.youtube.com/watch?v=R6K2RUKf7CM&feature=youtu.be.
About ActioNet, Inc.
ActioNet, Inc., headquartered in Vienna, Virginia, is a CMMI-DEV Level 4 and CMMI-SVC Level 4, ISO 20000, ISO 27001, ISO 9001, HDI-certified, woman-owned IT Solutions Provider with strong qualifications and expertise in Cloud-based Solutions, Cyber Security and Agile Software Engineering. As a Mission-Focused, Client-Centric and Results Driven organization, ActioNet also follows the Project Management Institute (PMI) methodology as well as Information Technology Infrastructure Library (ITIL) standards. ActioNet has outstanding financial performance, as evidenced by our "Exceeds Customer Expectations" and the highest 5A1 Financial Rating from Dun & Bradstreet, a 92 out of 100 rating from Open Ratings, the 2014 National Capital Corporate Growth Award by the Association for Corporate Growth (ACG), and Washington Technology Top 100 2012-2019. ActioNet's human capital leadership is recognized by being designated one of the Best Workplaces for Commuters by the Fairfax County Department of Transportation (FCDOT) 2013-2017 and Washington Post Top Workplaces 2014- 2020. For more information, please visit our web site at www.actionet.com.
Contact:
Michelle Barnes, 703-204-0090 Ext. 102, [email protected]